Mixed Doubles teams qualify
January 21, 2020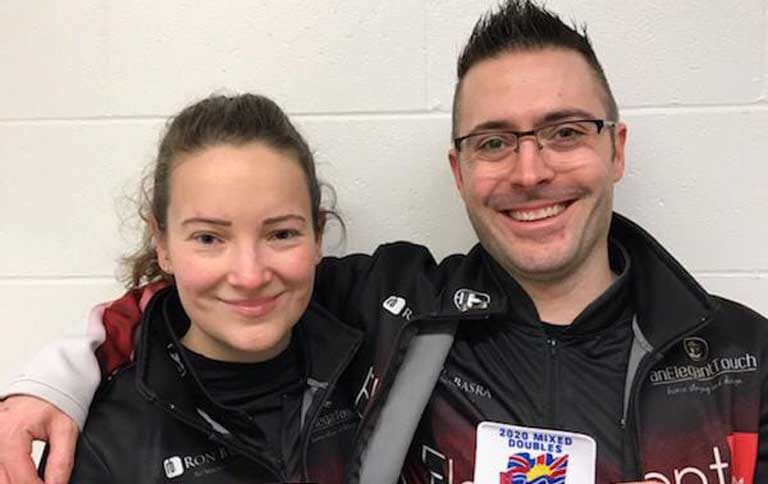 Mixed Doubles teams from across BC have booked their ticket to the BC Championship in Hope.
The 2020 BC Mixed Doubles Curling Championship takes place at Hope Curling Club from Feb. 25 to Mar. 1, 2020.
The fast-paced version of the game features one male and one female curler and the game is played over eight ends (instead of the usual 10). Mixed Doubles curling debuted at the Pyeongchang Olympics and is due to be in Beijing in 2022.
The BC championship in Hope will be a 16-team competition. Playdowns over this past weekend (Jan. 18-19) saw 14 teams qualify, with two more berths yet to be determined.
Teams from Tunnel Town (Tsawwassen), Vancouver, Chilliwack, Golden Ears (Maple Ridge), Royal City (New Westminster), Delta Thistle, Abbotsford, Nelson, Kelowna, Victoria, Campbell River and Prince George have all booked their tickets.
Jessica McWilliams, from Hope Curling Club said: "We look forward to welcoming all the teams to Hope Curling Club. This will be a fun, social event with some great competition."
In this format each team has only six stones and one of those stones from each team is prepositioned on the centre line before every end of play. One player delivers the first and last stones of the end while the other player throws the second, third and fourth stones. If they choose to, the two players may swap positions from one end to the next. Both team members are also allowed to sweep.
The winner of this event will go on to represent BC at the national mixed doubles competition.
BC curlers Tyler Tardi and Dezaray Hawes have already qualified for nationals through the Curling Canada NextGen Mixed Doubles event that took place at the Canada Cup in Leduc, Alberta, during the last week of November.
The Canada Inns Canadian Mixed Doubles Curling Championship will take place in Portage La Prairie, Manitoba from Mar. 17-22, 2020.
The final playdown event for the remaining two berths will take place at Hope Curling Club from Jan. 30 to Feb. 2.  Visit http://bot.curlbc.ca//web/Comp?compid=3187 for livescoring from that event.
Full rosters of teams:
Team Deane/Jensen – Tunnel Town
Connor Deane
Shawna Jensen
Team DenToom/Merchant – Vancouver Curling Club
Allison DenToom
David Marchant
Team Prinse/Gamache – Chilliwack/GEWC
Rhys Gamache
Stephanie Prinse
Team Gallaugher/Ward – Royal City
Robbie Gallaugher
Shannon Ward
Team Woo/Wenzek – Royal City
Courtney Woo
Daniel Wenzek
Team Prade/Pohlod – Delta Thistle
Patrick Prade
Layna Pohlod
Coach: Gregory Pohlod
Team Geiger – Abbotsford
Debbie Geiger
Dean Geiger
Team Little/Small – Nelson
Kristina Little
Nathan Small
Team Everest/Cseke – Kelowna
Team Sandwith/de Jong – Victoria
Carley Sandwith
Cameron de Jong
Team Jackson-Baier/Chester – Victoria
Steph Jackson Baier
Corey Chester
Team Wilson/Cowan – Victoria/Tunnel Town/Delta
Team Croteau/King Simpson – Victoria/Campbell River
Connar Croteau
Karly King Simpson
Team Czirfusz/Cheung – Prince George
Eryn Czirfusz
Mattias Cheung
Coach: Doug Dalziel
Subscribe to our newsletter
Receive the latest news updates, tournaments, programs, services and discounts.