Meet your candidates for the 2023-24 Curl BC Board of Governors
May 23, 2023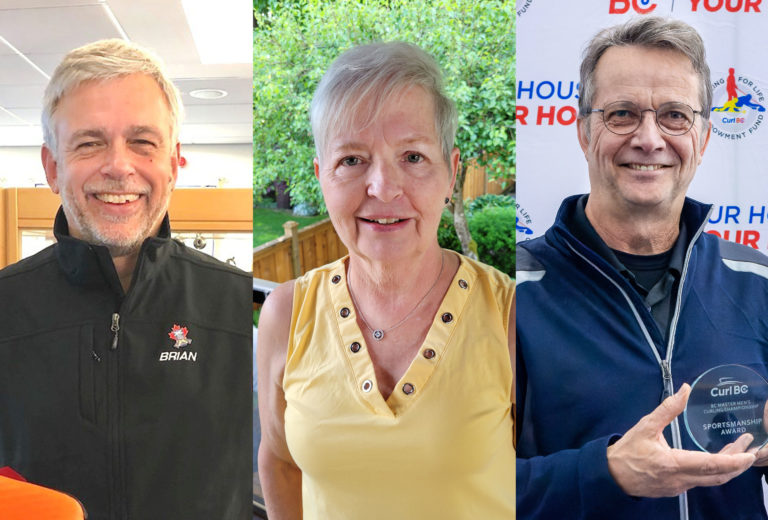 Curl BC is happy to announce that we have three very strong candidates for upcoming vacancies on our Board of Governors:
Brian Cowan – Delta
Brian has curled for more than fifty years, has been a coach, and has extensive governance experience with Curling Canada and the Ontario Curling Council, as well as many other private organizations. He has helped non-profits, government bodies, and businesses strategically plan their futures and transform their organizations for the better.
Earlene Graham – Coquitlam
Earlene served as President of the Coquitlam Curling Club, and later became President of the Port Moody Curling Club, where she currently curls. She has extensive marketing, public relations and event management experience.
Lyle Sieg – Langley
Lyle is a civil engineer and a proven leader in the construction industry, with strong marketing, finance, and management skills honed in a Fortune 100 company in both Canada and the United States. He also has curled for more than 50 years and recently won the 2023 BC Masters Championships. He calls the Langley Curling Centre his home club.
Elections will take place at the 2023 Curl BC Annual General Meeting, where these three candidates will be elected by acclamation to 3-year terms. There will also be an open 1-year term filled by the new Board after the AGM.
The AGM will take place via Zoom on Thursday, June 8th, 2023. For more information on the meeting and to register, please visit https://www.curlbc.ca/registration-is-open-for-the-curl-bc-agm/.
Subscribe to our newsletter
Receive the latest news updates, tournaments, programs, services and discounts.