Kimberley welcomes the 2022 AMJ Campbell BC Mixed Curling Championship
March 09, 2022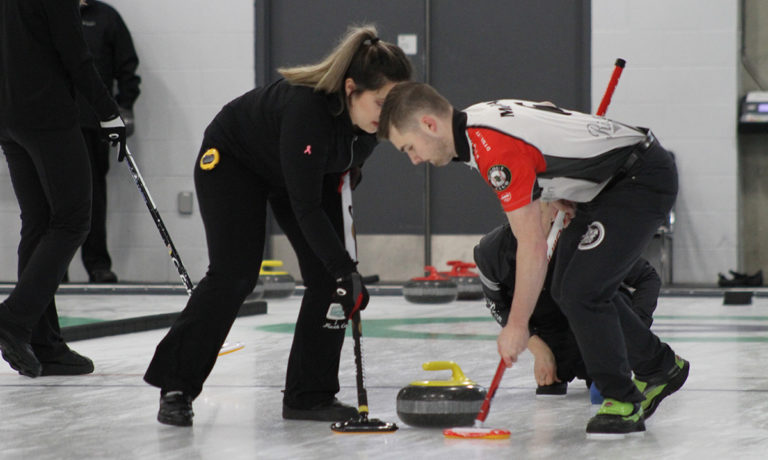 Get ready, Kimberley – the 2022 AMJ Campbell BC Mixed Curling Championship is coming your way this week. In all, 13 co-ed teams will do battle in the Kootenays, in an all-out effort to win the coveted Curl BC mixed curling title.
The action starts this Thursday, March 13th, and continues until Sunday, March 13th, with A, B, and C events across 10 draws, followed by playoffs and a championship game on Sunday.
Winners will advance to the Canadian Mixed Championship, which will take place November 6-12 in a location yet to be determined.
The teams are as follows:
TEAM ELLIS
Skip: Mack Ellis
Third: Emma Woike
Second: Troy Cowan
Lead: Marijke McDonald
Clubs: Duncan, Nanaimo
TEAM DEANE
Skip: Connor Deane
Third: Gracelyn Richards
Second: Joshua Miki
Lead: Keelie Duncan
Clubs: Royal City, Comox
TEAM BUCHY
Skip: Tom Buchy
Third: Kaila Buchy
Second: Dave Toffolo
Lead: Jaelyn Cotter
Clubs: Kimberley, Kelowna,
TEAM QUALLY
Skip: Trevor Qually
Third: Tracey Amy
Second: Huy Nguyen
Lead: Brenna Baker
Club: Cranbrook
TEAM TERSMETTE
Skip: Steve Tersmette
Third: Alyssa Ehman
Second: Mitch Young
Lead: Morgan Lypka
Clubs: Cranbrook, Kimberley, Campbell River
TEAM NILLSON
Skip: Justin Nillson
Third: Dana Johansen
Second: Dave Needham
Lead: Shari Needham
Club: Quesnel Curling
TEAM LUCAS
Skip: Randy Lucas
Third: Carla Walker
Second: John Baxter
Lead: Michelle Blanchard
Club: Kimberley
TEAM TOLLEY
Skip: Matt Tolley
Third: Alyssa Kylo
Second: Chris Medford
Lead: Jenna Denton
Club: Penticton
TEAM LANG
Skip: Peter Lang
Third: Kym Neutel
Second: Craig Coyne
Lead: Heather Lawrence
Club: Vancouver
TEAM ROBILLARD
Skip: Sebastien Robillard
Third: Karla Thompson
Second: Nathan Small
Lead: Amanda Guido
Clubs: Kamloops, Royal City, Nelson
TEAM DUCHARME
Skip: Chris Ducharme
Third: Sandra
Second: Scott Peet
Lead: Carrie Macaulay
CLUB: Creston
TEAM CRAIG
Skip: Miles Craig
Third: Stephanie Jackson-Baier
Second: Chris Baier
Lead: Carley Sandwith-Craig
Clubs: Victoria, Duncan
TEAM MCKENZIE
Skip: James McKenzie
Third: Susan Hicks
Second: Josh Kennelly
Lead: Samantha Young
Clubs: Castlegar, Cranbrook
Subscribe to our newsletter
Receive the latest news updates, tournaments, programs, services and discounts.