Kelowna to host 2021 Brier
November 21, 2019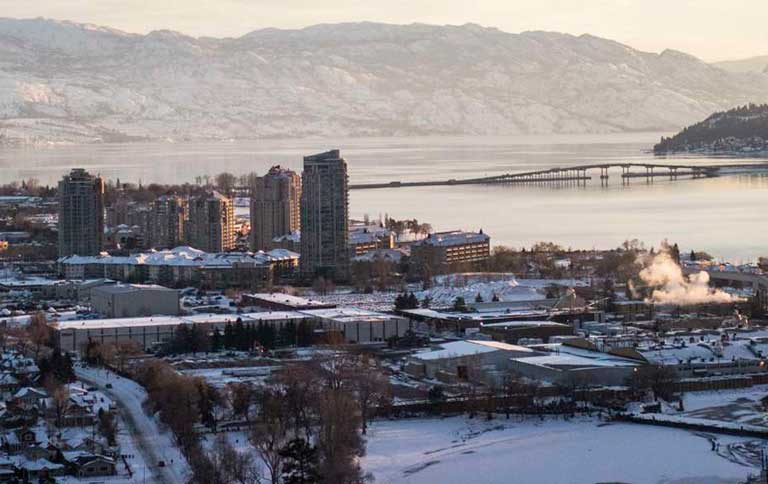 More than a half-century of waiting will come to an end when Kelowna plays host to the 2021 Tim Hortons Brier, presented by AGI, it was announced today by Curling Canada.
Kelowna last hosted the Canadian Men's Curling Championship in 1968 when Alberta's Ron Northcott prevailed at Memorial Arena.
This time around, it will be Prospera Place, a short walk away from Okanagan Lake, that will have Canada's best men's curling teams going head to head for a national title from March 6-14, 2021.
"Kelowna put together a superb bid to host the Tim Hortons Brier in 2021," said John Shea, Chair of Curling Canada's Board of Governors. "The Okanagan region has hosted numerous top-calibre curling events in the past, and I know the City of Kelowna is ready to step up and put on an amazing show for the world's most famous national curling championship."
Prospera Place opened in 1999, and has a seating capacity of 6,886. The Western Hockey League's Kelowna Rockets are the arena's main tenant.
"Kelowna is very excited to host the 2021 Tim Hortons Brier and we thank Curling Canada for the opportunity to do so," said Kelowna Mayor Colin Basran. "Our community is eager to welcome the athletes, officials and fans from across Canada for the country's premier curling event. To be able to host this Canadian tradition in one of the most beautiful cities in our country will certainly be a memorable and prosperous experience for all. See you all in 2021!"
While it will be the first time the Tim Hortons Brier has been played in Kelowna since 1968, the city has been active in hosting major curling events, including the 1986 World Women's Championship (won by Canada's Marilyn Bodogh), the 1989 Scotties Tournament of Hearts (won by Team Canada's Heather Houston), the 1999 Canadian Junior Championships (won by Ontario's John Morris and Quebec's Marie-France Larouche), the 2002 World Junior Championships (won by Canada's David Hamblin and Cassie Johnson of the United States, and, most recently, the World Mixed Curling Championship in 2018, won by Canada's Mike Anderson.
"We are so pleased that the Tim Hortons Brier will be hosted by the City of Kelowna and Tourism Kelowna in March of 2021," said Kelowna-Lake Country MLA Norm Letnick, Kelowna West MLA Ben Stewart and Kelowna-Mission MLA Steve Thomson in a joint statement. "It is an honour to welcome the athletes from all 10 provinces and three territories to our city and a privilege to provide them with an exceptional venue for their championship and a wide array of tourism destinations to experience once their games are complete. We are so excited to have the Brier and all the talented competitors here in Kelowna – together we will 'Rock the House!' "
The Kelowna edition of the Brier will mark the 17th year of title sponsorship from Tim Hortons, Canada's largest restaurant chain operating in the quick-service industry.
"We're excited that the Tim Hortons Brier is returning to B.C. in 2021," said Chris Wakefield, Lead, Regional Marketing and Sponsorships, Tim Hortons. "The last time the province played host was in 2014 where Kamloops saw Alberta's Kevin Koe came out on top. We look forward to celebrating our long history of curling in Canada on the west coast in 2021."
It will be the eighth time the event has been played in British Columbia.
"British Columbia has a proven and enviable track record of hosting national and international curling events, and I know the City of Kelowna is going to step up in its typical enthusiastic fashion," said Scott Braley, Chief Executive Officer of Curl BC. "The Tim Hortons Brier is a showcase event for our sport, and the players, officials and fans who visit Kelowna in 2021 will go home with some wonderful memories."
The 2021 Tim Hortons Brier champion will go on to wear the Maple Leaf a few weeks later at the 2021 World Men's Championship, to be played in a Canadian city (location, dates TBA). As well, the winning team will qualify for the 2021 Tim Hortons Roar of the Rings Canadian Curling Trials in Saskatoon, where Canada's four-player curling teams for the 2022 Winter Olympics in Beijing will be decided. On top of that, the 2021 Tim Hortons Brier champ will get a return trip to play as Team Canada at the 2022 Tim Hortons Brier.
"A national 10-day event such as the Tim Hortons Brier will bring major economic benefits to the Central Okanagan, transforming March into a busy, exciting time for visitors and local businesses," said Lisanne Ballantyne, President and CEO of Tourism Kelowna. "As a host destination, Kelowna has a record of hosting highly successful national and international events, and we look forward to welcoming the national players, media, and thousands of curling fans from across to the country to this premier sporting event."
Tickets for the 2021 Tim Hortons Brier, the 92nd edition of the championship, are expected to go on sale early in 2020.
The Brier has been played in 31 cities across Canada, from Victoria to St. John's, N.L. Alberta leads in Brier victories with 28, followed by Manitoba with 27. New Brunswick, Prince Edward Island, the Yukon, Northwest Territories and Nunavut have yet to win.
The 2020 Tim Hortons Brier, presented by AGI, is scheduled for Feb. 29-March 8 in Kingston, Ont. Tickets are available at www.curling.ca/2020brier/tickets.
-30-
For More Information
Al Cameron
Director, Communication & Media Relations
Curling Canada
Tel: 403-463-5500
acameron@curling.ca
Kyle Jahns
Manager, Communication and Media Relations
Curling Canada
Tel: 204-803-8221
kyle.jahns@curling.ca
Chris Babcock
Event Development Supervisor
City of Kelowna
Tel: 250-469-8780
cbabcock@kelowna.ca
Subscribe to our newsletter
Receive the latest news updates, tournaments, programs, services and discounts.