Karen Watson honoured with NCCP Coach Developer Award
November 22, 2021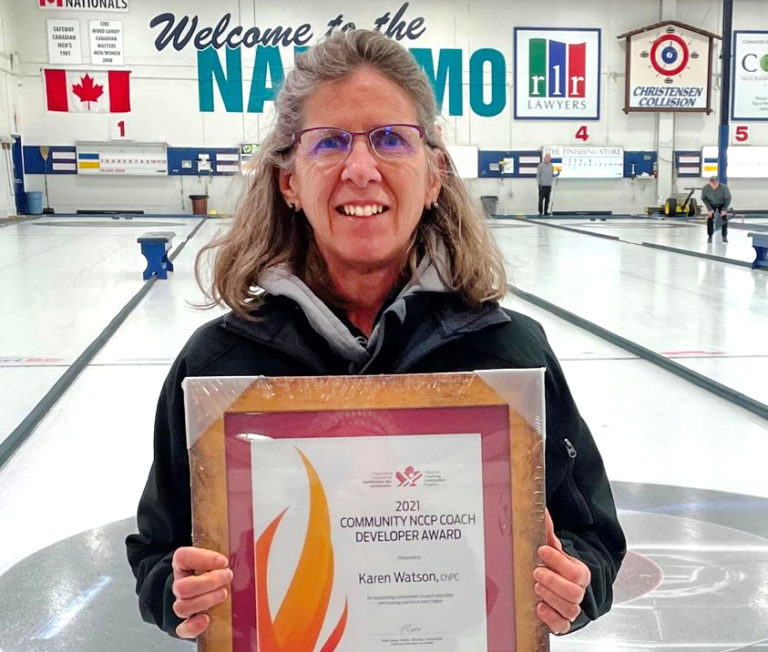 Since 2012, the National Coaching Certification Program's Coach Developer Awards have recognized outstanding individuals who have gone above and beyond in the field of coaching.
This year, the award was given to Curl BC Master Learning Facilitator and Coach Development Coordinator Karen Watson, ChPC.
A dedicated curler and a member of the Nanaimo Curling Club, Watson has been an exemplary model of a Coach Developer for fifteen years. Professional, supportive, and a strong believer in the gifts of the mentor-protégé relationship, she has trained a whole generation of coaches, and worked with countless youth curlers.
As an integral part of the coaching landscape of BC, Watson is a Curl BC High Performance Program coach, and the longest-serving Rockslide coach.  A true coach educator, She is involved in all levels of the sport, and sits on multiple committees for Curl BC, Curling Canada, and viaSport.
A respected role model and mentor, Karen's passion for coach development inspires lifelong learning, and demonstrates that coaching is a journey and not an end goal.
Watson's Coach Developer Award is very well-deserved, and all of us here are at Curl BC are very thankful for her years of dedication and hard work.
Subscribe to our newsletter
Receive the latest news updates, tournaments, programs, services and discounts.