Islanders excel on—and off—the ice
September 29, 2021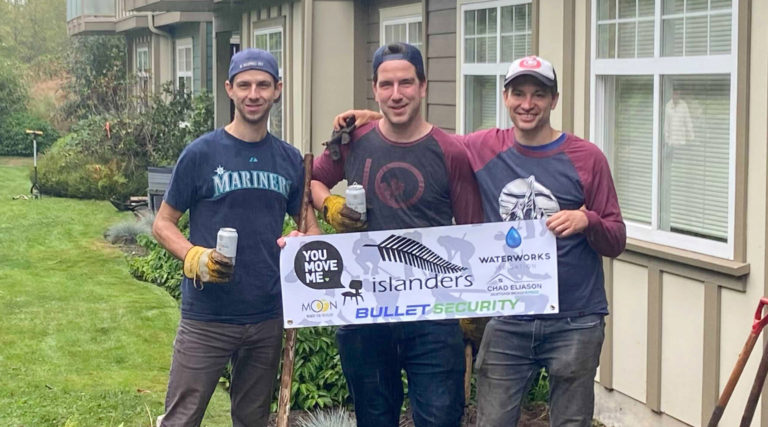 When we think of curlers, we tend to conjure up images of teams throwing, sweeping, and all the associated action on the cold side of the glass.
There's one group of curlers, however, who have been doing some of their best work off the ice.
While keeping one eye on the Brier, the Victoria-based team known as the Islanders—made up of skip Paul Cseke, third Corey Chester, second Jay Wakefield, lead Ryan Cassidy, and coach Cody Hall—is also taking time to give back to their community.
With some extra time on their hands due to COVID-19 and the cancellation of the 2020-21 season, they found there was plenty of need for helping hands. And when Curling Connection caught up with the Islanders, the group was doing volunteer yard work at a Victoria condo building.
"Our goals for the off-season," explained Cseke, "were helping our community in any way possible, bonding and growing as a team, and marketing ourselves so we can find sponsors with similar values."
And they found, once they started asking around, that there were plenty of people who needed a little help. Everyone from other curlers to community members to absolute strangers.
When it comes to the Roaring Game, the Islanders have gone through great lengths to hone their skills.
"We commissioned a strengths finder consultant to help us find our individual strengths," said Cseke, "so we could A) get to know each other and B) optimize our roles on our team, so we can accomplish more than the sum of our individual parts."
"The next phase in our journey," he continues, "is the relentless grind of working out and seeking sponsors in the community. Countless meetings, workouts, and great hang out sessions happened all summer. Our coach prepared an early season training plan, and we're so excited to get going—now we're into fall and our quest continues as the season is finally here."
In the end, though, the Islanders are as serious about public service as they are about curling.
"We are a group of guys all with the same goal of going to the Brier. But we're more than a curling team, we are a brand that represents Vancouver Island. And we're always looking for volunteer activities that create these win-win scenarios. As long as we have time, we'll be doing things like this."
Subscribe to our newsletter
Receive the latest news updates, tournaments, programs, services and discounts.