Get Ready, Langley—here comes the 2022 Mixed Doubles Championship
March 03, 2022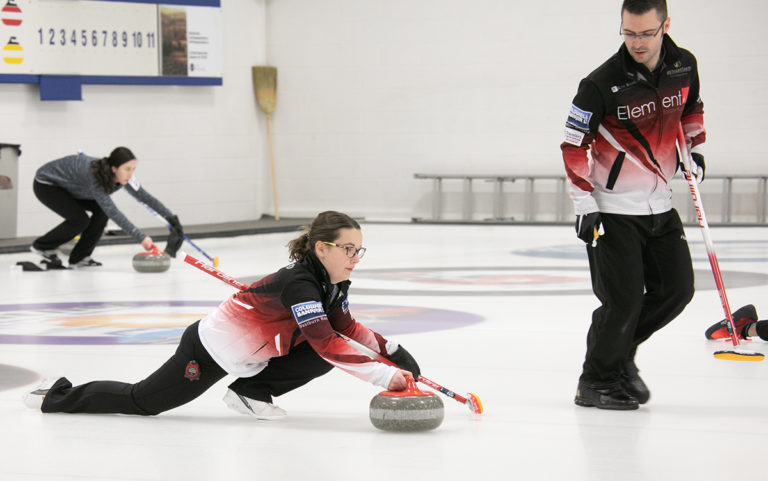 The 2022 BC Mixed Doubles Championship begins this week at the Langley Curling Centre, and all eyes will be on this exciting and quickly paced event.  Due to Curling Canada's cancellation of 2022 national championship due to COVID-19, this event will be the end of the line for Mixed Doubles teams in BC this season. However, teams will still have prize money, Team BC uniforms, and their name on the coveted BC Mixed Doubles Championship title to keep them all motivated.
You know the saying 'leave it all on the ice'? Well this one will see it all left in the province. And one skilled team will have bragging rights for years to come.
Competition will take place beginning today, with co-ed two-person rinks playing 8-end games. Each Team will throw five stones per end—with one team member throwing the first and fifth stones, and the other throwing stones two through four.
With a large number of entries—20 teams in all—there will be four pools of 5, and pool play will take place across seven draws and three days, from Thursday, March 3rd until Saturday, March 5th. Playoffs will take place on Sunday, March 6th in a single knockout championship round. Spectators/customers are welcome to come on down and watch the action live at the Horse and Ryder pub, located right above the Curling Club.
One person who won't be able to make it to the Mixed Doubles Championship is Langley Curling Club's icemaker, Nick Meister, who'll be playing with Team BC at the Tim Hortons Brier this weekend—good luck and good curling, Nick! While he's away in Lethbridge making us proud, Norm Scott from the Vancouver Curling Club will be taking over and making sure that Langley's ice is up to its usual excellent standards. Patti Caldwell will serve as chief umpire.
Mixed Doubles teams are as follow. Good luck and good curling to all!
Team Wark/Nerpin
Skip name: Sarah Wark, Andrew Nerpin
Club: Abbotsford
Team Ward/Gallaugher
Shannon Ward & Robbie Gallaugher
Club: Royal City
Team Pohlod/Wenzek
Layna Pohlod Daniel Wenzek
Club: Royal City
Team King Simpson/Croteau
Karly King Simpson, Connar Croteau
Clubs: Comox Valley, Victoria
McGillivray/Miron
Megan McGillivray, Logan Miron
Club: Kelowna
Team Frycz/Routliffe
Jenn Routliffe, Darren Frycz
Club: Langley Curling Club
Team Woike/Deng
Emma-Gail Woike, Daniel Deng
Clubs: Duncan, Royal City
Team McDonald/Cowan
Marijke McDonald: Troy Cowan
Club: Duncan
Team McCrady/Wilson
Kayla Wilson, Matthew McCrady
Clubs: Victoria, Royal City
Team McGowan/Moore
LoriAnn McGowan, Wayne Moore
Club: Langley
Team Wong/Duncan-Wu
Bryelle Wong, Alex Duncan-Wu
Club: Royal City Curling Club
Team Malllet/Miki
Ashley Mallett, Josh Miki
Clubs: Royal City, Langley
Team Gushulak/Prade
Diane Gushulak, Patrick Prade
Club: Vancouver
Team Rees/Schellekens
Vicki Rees, Darren Schellekens
Club: Langley
Team Taylor/Taylor
Regan Taylor, Ryan Taylor
Club: Langley
Team Dezura
Ashley Ann Dezura, Grant Dezura
Club: Golden Ears
Team Richter/McLeod
Marilou Richter/Craig McLeod
Club: Penticton
Team Mychaluk/Jeannotte
Donna Mychaluk, Kevin Jeannotte
Club: Langley
Team name: Brissette/Fadden
Gabby Brissette, Coburn Fadden
Clubs: Victoria, Kamloops
Team Wilson/Horvath
Sasha Wilson, Alex Horvath
Club: Victoria
Subscribe to our newsletter
Receive the latest news updates, tournaments, programs, services and discounts.