Full 2021-22 event calendar released
April 19, 2021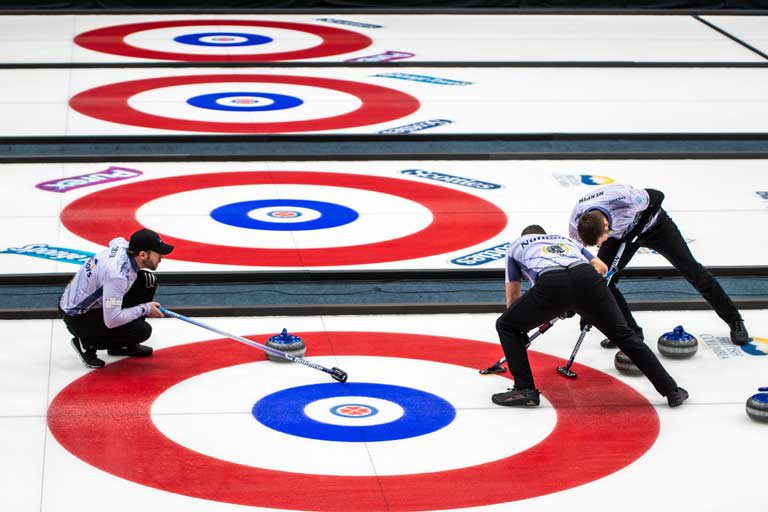 The City of Kamloops has been selected to host BC's flagship curling event, the 2022 BC Men's and BC Women's curling championships. The two championships will be held at the same time from Jan. 4  to Jan. 9, 2022, at the Olympic Ice at McArthur Island Sport & Event Centre.
The event was due to take place in January of this year but had to be cancelled because of the Covid-19 pandemic.
The 2022 event will feature the top women's and men's teams in BC as part of the 2022 Scotties BC Women's Curling Championship, presented by Best Western, and the 2022 BC Men's Curling Championship.
Brenda Nordin, the co-chair of the Kamloops championships, said she was looking forward to the event. "We already have a fantastic committee in place and we look forward to hitting the ground running for 2022." Linda Bolton, the other co-chair, said: "The Kamloops business community was very supportive of the 2021 event so we want to thank them for their efforts and we look forward to working with them again this next season."
"Kamloops has always been a strong supporter of curling, and we're excited to bring a major curling event back to the Tournament Capital," said Mayor of Kamloops Ken Christian. "We are so pleased to be able to host this event and welcome elite sport back into our community."
The 2022 event is a little earlier than normal due to the Olympic schedule pushing national events earlier.
Due to the compressed schedule for playdowns and tour events, Curl BC will only be running one open qualification event for the women's category. The single open qualifying event will have four berths available. Men's curling teams will continue to qualify through five regional playdowns. Due to the 2021 provincials being cancelled, there will not be defending champions at the 2022 BC Men's and Women's championships. The Men's and Women's BC Curling Tours will continue to be an avenue for qualification.
An announcement will be made before Jul. 1, 2021, as part of the release of the full category specific rules for 2021-22, regarding how and where these berths will be allocated.
Meanwhile, the Comox Valley Curling Club will host the 2022 BC Junior Curling Championships. The event for U21 curlers will take place Jan. 25-30, 2022.
Comox Valley Curling Club Manager Keith Parry said: "As our club's membership base has shown enormous growth in recent years; I am thrilled to see the emergence from our junior program of a number of young curlers ready to compete at the provincial level. The Comox Valley Curling Club is thrilled to fully support them, as well as warmly welcome all BC junior curlers and their families to our beautiful community, by hosting this exciting event. We can't wait!"
The other events that Curl BC is announcing include three 2021 championships:
The 2021 BC Club Championships will take place at Quesnel Curling Centre from Sept. 29-Oct. 3. This event leads to 2021 Everest Canadian Club Championships Nov. 28-Dec. 4, 2021, at Ottawa Hunt & Golf Club in Ontario.
The 2021 BC Mixed Curling Championship will take place at Kelowna Curling Club from Oct. 5-10, 2021. The event leads to Canadian Mixed nationals Nov. 7-14, 2021, at Canmore Golf & Curling Club in Alberta.
The 2021 BC Senior Curling Championships will take place at Abbotsford Curling Club from Oct. 19-24, 2021. This event leads to the 2021 Canadian Senior Curling Championships Dec. 6-11, 2021, at Soo Curling Association in Sault St Marie, Ont.
The remaining 2022 BC Championships (and additional qualifiers) being announced today are:
BC U21 Special Worlds Qualifier – Oct. 28-31 – at Kamloops Curling Club
BC U15 Challenge Cup – Nov. 5-7 – at Chilliwack Curling Club
BC U18s – Dec. 28-Jan. 2 – TBD
BC Stick (2-person stick curling) – Jan. 27-30 – at McArthur Island Curling Club in Kamloops
BC Wheelchair – Jan. 27-30 – TBD
BC Mixed Doubles – Feb. 9-13 – TBD
BC Masters – Feb. 15-20 – Royal City Curling Club in New Westminster
BC Winter Games (U16) – Feb. 24-27 – Vernon Curling Club
2023 Canada Winter Games Qualifier for Boys and Girls (U18) – Mar. 3-6 – Nanaimo Curling Centre
BC Mixed – Mar. 10-13 – Kimberley Curling Club
BC Seniors – Mar. 15-20 – Chilliwack Curling Club
2023 Canada Winter Games Qualifier for Mixed Doubles (U20) – Mar. 16-19 – Golden Curling Club
BC Club Championships – Mar. 24-27 – Trail Curling Club
Due to a reduction in the number of entries at the regional level for the above categories of events, including the Juniors, we no longer have a critical mass of teams in each region to continue running five regional events for every category.  Based on playdown participation numbers, the decision has been made to stage open provincial championships for all categories in 2021-22, except men's, women's and BC Winter Games.
It is not yet known if Covid-19 safety protocols such as mask-wearing and distancing will be required for these events. However, it is not anticipated that these will be "bubble" events.
Scott Braley, Curl BC CEO, said: "We look forward to returning to competition in 2021-22 and working with municipalities, curlers and volunteers from across B.C. to make these championships a success."
Registration for all events will open on Jun. 1, 2021. If you have already registered for one of our fall 2021 events, your registration is still valid.
Additional details about registration can be found on our Playdown Registration page.
Subscribe to our newsletter
Receive the latest news updates, tournaments, programs, services and discounts.