Frontrunners emerge at juniors
December 30, 2019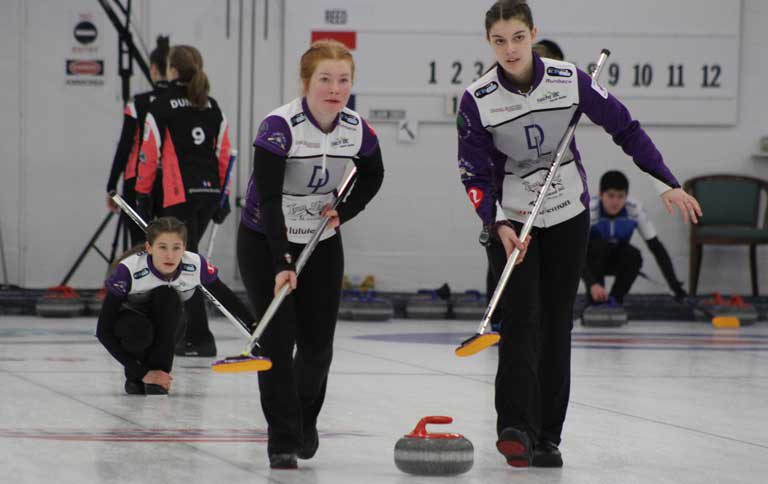 The first six draws have been played and now the frontrunners have emerged at the 2020 BC Junior Curling Championships.
Team Sato and Team Colwell are both undefeated in Junior Men's play, but it won't stay that way for long. They will meet at 2pm today and the result will help determine the top playoff position.
Meanwhile in women's play, Team Buchy and Team Taylor sit with a 4-1 records with two more round robin games to play. Team Daniels has a 3-1 record, with only one defeat (against Team Buchy) and play at 2pm today.
Team Taylor, representing Royal City and Tunnel Town curling clubs, are excited about being in the playoff hunt. Skip Jensen Taylor said: "We have been lucky with some of our games and the other teams have missed shots. But we have also been forcing them to make tough shots."
Jensen, from Vancouver, said the strategy going forward was to keep things simple.
Meredith Cole, who plays third on Team Taylor and lives in Tsawwassen, said: "I think we have been playing really well. We have been able to make the shots when it counts."
The team is rounded out by Chelsea Taylor, also from Vancouver and Keira McCoy, also from Tsawwassen.
The 2020 BC Junior Curling Championships are taking place at Victoria Curling Club and will run until Jan. 2.
It is an exciting year for BC teams because the top Junior Women's team and the two top Junior Men's teams will represent BC at national championships taking place in Langley. The junior men were offered that second berth as a result of Nunavut withdrawing from the competition. The New Holland Canadian Junior Curling Championships takes place from Jan. 18-26, 2020, at the George Preston Recreation Centre and Langley Curling Club.
All the Victoria championship results will be available at http://playdowns.curlbc.ca/. Some of the games are being livestreamed on Curl BC TV. The finals on Jan. 2 will also be streamed on cbcsports.ca and via the CBC Sports app for iOS and Android devices.
Subscribe to our newsletter
Receive the latest news updates, tournaments, programs, services and discounts.