Follow Team BC
February 22, 2021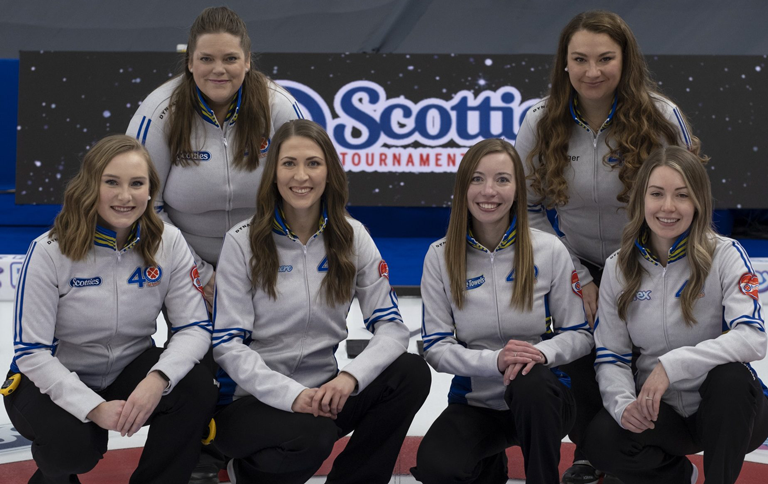 The world's most famous and prestigious women's curling national championship is being staged under unfamiliar circumstances, but the stakes and pressure will be very familiar.
The 2021 Scotties Tournament of Hearts began on Friday and wraps up this weekend (Feb. 28) inside a strictly enforced, safe, no-fans bubble at the Markin MacPhail Centre at WinSport's Canada Olympic Park in Calgary.
BC is represented by Team Brown, last year's champions. The team from Kamloops features Corryn Brown, Erin Pincott, Dezaray Hawes, Samantha Fisher, alternate Stephanie Jackson-Baier and coach Allison MacInnes.
The winning team will qualify for the Tim Hortons Curling Trials, presented by AGI, next November in Saskatoon, where Canada's four-player men's and women's teams for the 2022 Winter Olympics will be decided.
The winning team also will play at the 2022 Scotties Tournament of Hearts in Thunder Bay as Team Canada, in addition to pocketing first-place prize money of $100,000.
The 2021 Scotties will mark an amazing 40 years of title sponsorship by Kruger Products.
Kerri Einarson from Gimli, Man., is the defending champion and is curling as Team Canada. She is backed up by vice-skip Val Sweeting, second Shannon Birchard, lead Briane Meilleur, alternate Krysten Karwacki and Nedohin as the coach.
The field was expanded to 18 teams for this year only to accommodate teams that didn't get an opportunity to compete for their provincial or territorial championship due to the COVID-19 pandemic. The three Wild Card teams were based on their standing in the 2019-20 Canadian Team Ranking System (only teams that had three-of-four players remaining in the lineup were eligible).
The teams in Calgary have been separated into two pools of nine, and seeded based on their final standing in the 2019-20 Canadian Team Ranking System.
They are playing a full round robin within their respective pools, and then the top four teams in each pool will move on to the Championship Pool, and play four more games against the teams from the other pool. Their preliminary pool records will be carried forward.
From there, the top three teams will make the playoffs; the first-place team after the Championship Pool will go straight to the gold-medal game (Feb. 28, 8:30 p.m.), while the second- and third-place teams will meet in the semifinal (Feb. 28, 2:30 p.m.)
CLICK HERE to check Team BC's schedule for the 2021 Scotties Tournament of Hearts.
TSN/RDS2 will provide complete coverage of every draw at the 2021 Scotties Tournament of Hearts. CLICK HERE for the broadcast schedule.
Subscribe to our newsletter
Receive the latest news updates, tournaments, programs, services and discounts.