Finals day at Victoria Juniors
January 02, 2020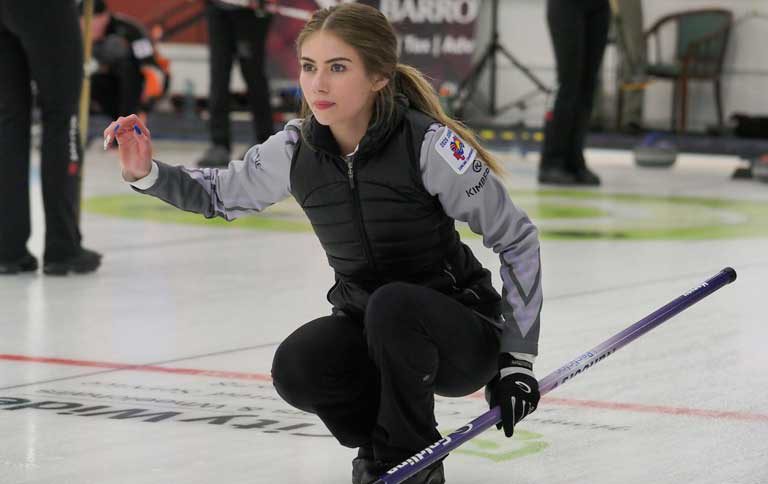 A fantastic semi final game yesterday afternoon saw Jensen Taylor's Royal City/Tunnel Town rink clinch a spot in today's BC Junior Women's Curling Championship finals.
They will face Team Buchy (Kimberley/Vernon/Kelowna) in the match-up which starts at 2:00 p.m. PST today and will be streamed on cbcsports.ca.
Jensen Taylor, who curls with her sister Chelsea, as well as third Meredith Cole and second Keira McCoy, had to throw an angle tap to the four foot to secure the 7-6 semi final win over Team Daniels of Delta Thistle. She said she was really excited to be in the final.
She said: "I think we need to stay focused and try to keep the game as simple as we can and hopefully it works out."
On the line is the chance to wear the BC jacket at the New Holland Canadian Junior Curling Championships in Langley later this month.
In Junior Men's play, Team Sato, from Royal City Curling Club, won the bye to this morning's final after finishing top in round robin play. They face Team Tao, from Richmond, Vancouver and Port Moody curling clubs in the match-up which starts at 10:00 a.m. PST today on cbcsports.ca.
This year, because BC is hosting the nationals and because Nunavut could not field a junior men's team for nationals, two BC men's teams will compete, one as the BC team and one as the host team. This morning's test will determine who gets the jackets.
The 2020 BC Junior Curling Championships are taking place at Victoria Curling Club.
The top two junior men's teams and the top junior women's team will travel to the New Holland Canadian Junior Curling Championships which takes place from Jan. 18-26, 2020, at the George Preston Recreation Centre and Langley Curling Club.
Team Colwell from Vernon, Kamloops and Grand Forks curling clubs and Team Daniels from Delta Thistle Curling Club were presented with bronze medals yesterday.
All the Victoria championship results are available at http://playdowns.curlbc.ca/. The stream is available on cbcsports.ca and via the CBC Sports app for iOS and Android devices.
Full team rosters of playoff teams:
Junior Men:
Team Sato, Royal City
Skip: Hayato Sato
Third: Matthew McCrady
Second: Joshua Miki
Lead: Jacob Umbach
Coaches: Bryan Miki/Brent Pierce
Team Tao, Richmond/Vancouver/Port Moody
Skip: Johnson Tao
Third: Toby Mills
Second: Connor Kent
Lead: Michael Nunn
Coach: Vic Shimizu
Junior Women:
Team Buchy, Kimberley/Kelowna/Vernon
Skip: Kaila Buchy
Third: Jaelyn Cotter
Second: Katelyn McGillivray
Lead: Cassidy Schwaerzle
Fifth: Samantha Mclaren
Coaches: Tom Buchy/Jim Cotter
Team Taylor, Tunnel Town/Royal City
Skip: Jensen Taylor
Third: Meredith Cole
Second: Keira McCoy
Lead: Chelsea Taylor
Coach: Chris Summers
Subscribe to our newsletter
Receive the latest news updates, tournaments, programs, services and discounts.