Experience triumphs over youth at fun event
November 21, 2019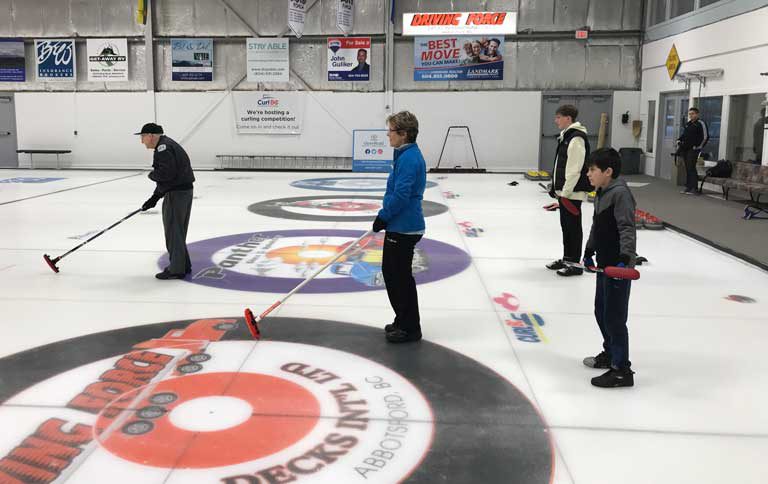 An exhibition game between a master men's team and a junior boys' team saw the master men prevail 4-0.
The Battle of Ages exhibition game at Abbotsford Curling Club on Wednesday, Nov. 20, was a fun way to celebrate the game, which is enjoyed by all ages.
There was a small crowd cheering on both teams at the club.
With over 200 years of curling experience between them, it's not surprising that the masters team of Don McMillan, Norm Shafer, Hugh Meiklejohn, Len Exley and Yoshi Hashimoto were able to control the game.  The junior boys who ranged in age from 12 to 16 were Jaxx Keeler, Evan Bews, Sam Dyck and Landon O'Neill.
A separate exhibition game between the senior ladies' team of Jane McInnes, Allyson Hambly, Carole Johannesson and Beth Anderson over a mixed youth team also saw the older team prevail 3-1. The youth team featured Nichole Patton, Payten Whittmore, Ben Brown and Isaac.
Abbotsford manager Kent Bird said: "This was a fun event and members enjoyed watching our youngest teams battle the older teams. After a few more years in the hack these young teams might be able to get their revenge and win against the masters and seniors."
But while it seems that experience triumphed over youth on Wednesday, who knows what the result would have been if the four-end games had continued?
Junior curling program coordinator Natasha Cummings said some of the members of the youth teams had only been curling a couple of seasons.
"They are a really good group of kids and I am excited to see them grow and enjoy the sport," she said. "I'm just glad to see everyone enjoying themselves."
Subscribe to our newsletter
Receive the latest news updates, tournaments, programs, services and discounts.