Registration for Parksville's Rockslide Rumble now open
May 06, 2022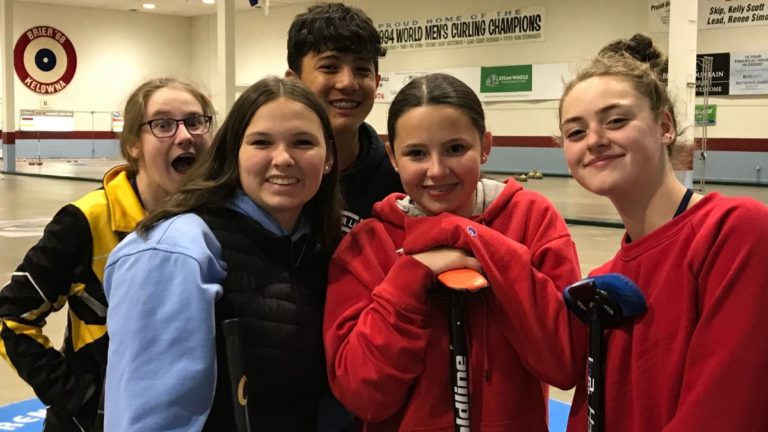 Rockslide Rumble's Parksville Camp is now open for registration. Limited space is available, so register today!
Rockslide Rumble Camps, presented by Curl BC and the Optimist Clubs of BC, are camps filled with fun, friendship, and curling. These are zone based curling camps built on the foundational skills of our annual Rockslide Summer Camp.
Youth participants aged 9 to 18 will learn the latest in technical skill development, strategy, team dynamics, mental performance, and get to connect with athletes and coaches from across their region, and BC.
The camp will take place at the Parksville Curling Club (220 Corfield Street North, Parksville, BC), from Thursday August 18 to Saturday August 20, 2022
Schedule:
Aug 18: 10:00 am – 6:00 pm (off ice and on ice coaching sessions).
Aug 19: 9:00 am – 5:00 pm (off ice and on ice coaching sessions).
Aug 20 – *NEW ROCKSLIDE ADDITION TO PARKSVILLE CAMP ONLY: Mini Doubles Bonspiel with coaching.
Camp Fees: $320.00 (2.5 days of camp, shirt, water bottle, lunches on the Thursday and Friday, and everyday snacks included in the price).
Registration deadline: July 18th, 2022 (11:59pm)
Payment: Payment in full must be received by July 18th, 2022. As such, a registration is not considered complete until payment has been received. Payment can be completed online HERE , or by e-Transfer, or a cheque can be mailed to the Curl BC office. Payment will not be collected in person. (See instructions once directed to the payment section of this registration form).
Cancellation Policy: A cancellation fee of $50 will be incurred for withdrawals after July 18th, 2022. After August 1st, 2022 there will be no refunds unless the spot can be filled through the waiting list.
Accommodation:
https://www.visitparksvillequalicumbeach.com/stay/
Additional Rockslide Rumble camps will take place in Kamloops (Aug 27&28), Chilliwack (Sep 3&4),, and Cranbrook (Nov 5&6). Registrations will be live within the upcoming weeks!
Subscribe to our newsletter
Receive the latest news updates, tournaments, programs, services and discounts.