Driving Force Decks Cashspiel motors into Abbotsford this weekend
October 11, 2022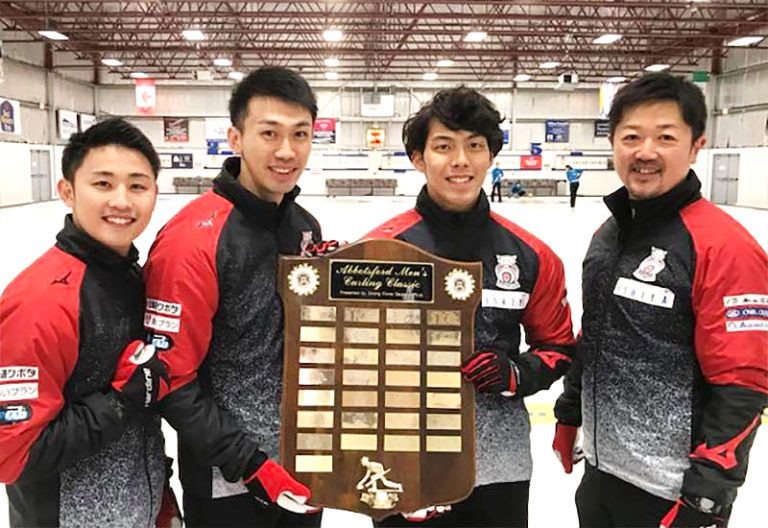 Get ready for Abbotsford to heat up this weekend as a $13,000 purse will draw the best and scrappiest curlers from all over to compete at the Driving Force Decks Cashpiel.
Running from October 14-16 at the Abbotsford Curling Club, the cashspiel will feature ten women's teams and sixteen men's teams from Canada, the United States, Korea, and Japan facing off in a round-robin pools format. Both men's and women's semi-finals will take place at noon on Sunday, followed by the final championship games at 3:00pm.
During the course of the event, all games will be eight ends, with tie-breakers played on Saturday night at 6:00 and/or 9:00pm. The top eight men's teams with qualify for the playoffs, the top team in each women's pool will receive the 1st and 2nd seeds and a bye to the semi-finals at 10am Sunday. The finals will follow at 2:00pm on Sunday.
For those interested in watching the games in person, the club's café will be open through the weekend, there will be multiple 50/50 draws, and Elvis will be in the building providing entertainment from 7:30-to10:00pm on Saturday night, with no cover charge.
Draw schedules and results for both the men's and women's events can be found at the following links:
https://www.curlingzone.com/event.php?view=Main&eventid=7334
https://www.curlingzone.com/event.php?eventid=7335&view=Main#1
WOMEN'S TEAMS:
Team Kaila Buchy (Kelowna, BC)—skip Kaila Buchy; third Katelyn McGillivray; second Jaelyn Cotter; lead Hannah Linder
Team Sheilla Cowan (New Westminster, BC)—skip Sheilla Cowan; third Sandra Comadina; second Stephanie Whittaker-Kask; lead Christine Matthews
Team Diane Gushulak (Vernon, BC)—skip Diane Gushulak; fourth Brette Richards; third Blaine DeJager; second Alyssa Kyllo; lead Grace MacInnes
Team Shawna Jensen (Vancouver, BC)—skip Shawna Jensen, third Layna Pohlod; second Sarah Wong. Lead Amanda Wong
Team Ikue Kitazawa (Nagano, Japan)—skip Ikue Kitazawa, third Seina Nakajima; second Minori Suzuki; Hasumi Ishigooka
Team Mychaluk (Langley, BC)—skip Donna Mychaluk; third Victoria Murphy; second Shirley Wong; lead Jaent Suter
Team Taylor Reese-Hansen (Victoria, BC)—skip Taylor Reese-Hansen; third Megan McGillivray; second Cierra Fisher; Lead Sydney Britz; fifth Dailene Pewarchuk
Team Kristen Ryan (Maple Ridge, BC)—skip Kristen Ryan; third Megan Daniels; second Kirsten Fox; lead Dawn Messana
Team Sarah Wark (Abbotsford, BC)—skip Sarah Wark; third Kristen Pilote; second Karla Thompson; lead Amanda Brennan
Team Bryelle Wong (Vancouver)—skip Bryelle Wong; third Morgan Bowles; Second Alexis Nguyen; lead: Erin Fitzgibbon
MEN'S TEAMS:
Team Shinya Abe (Sapporo, Japan)—Skip Shinya Abe; fourth Tetsuro Shimizu; third Haruto Ouchi; second Minori Suzuki; lead: Sota Tsuruga
Team Nicholas Connolly (Seattle, WA)—skip Nicholas Connolly; third Evan Workin; second Chris Bond; lead Nathan Perry
Team Paul Cseke (Victoria, BC)—skip Paul Cseke; third Corey Chester; second Jay Wakefield; Lead Ty Russell
Team Cameron de Jong (Penticton, BC)—skip Cameron de Jong; third Matt Tolley; second Erik Colwell; lead John Slattery
Team Jacques Gauthier (Victoria, BC)—skip Jacques Gauthier; third Sterling Middleton, second Jason Ginter; lead Alex Horvath
Team Sean Geall (New Westminster, BC)—skip Sean Geall; Third Brad Wood; second Mitchell Kopytko; lead Darin Gerow
Team Yeongseok Jeong (Gangwon, Korea) skip Yeongseck Joeng, third Jongduk Park, second Seunghoon Oh, Lead Jihoon Seong
Team Bob Leclair (Scottsdale, AZ)—skip Bob Leclair, third Fred Maxie; second Jeff Bair; lead Tom Danielson
Team Matthew McCrady (New Westminster, BC)—skip Matthew McCrady; third Thomas Love; second Brayden Carpenter, lead Danile Dabiri
Team Chris Medford (Kimberley, BC)—skip Chris Medford; third Steve Tersmette; second Mitch Young; lead Blair Jarvis
Team Brent Pierce (Kelowna, BC)—skip Brent Pierce; third Jeff Richard; Second Jared Kolomaya; lead Nicholas Meister
Team Sebastien Robillard (Port Coquitlam, BC)—skip Sebastien Robillard; third Daniel Wenzek; second Richard Krell; lead Nathan Small
Team Randie Shen (Chinese Taipei)—skip Randie Shen; third Nicholas Hsu; second Ken Hsu; lead Henry Cheng
Team Darryl Sobering (Denver, CO)—skip Darryl Sobering; third Alec Celecki; second D.J. Johnson; lead Josh Chetwynd
Team Cody Tanaka (New Westmister, BC)—skip Cody Tanaka; third Josh Miki; second Nicholas Umbach; lead Connor Kent.
Team Riku Yanagisawa (Raruizawa. Japan)—skip Riku Yanagisawa; third Tsuyoshi Yamaguchi; second Takeru Yamamoto; lead Satoshi Koizumi
This event is funded, or funded in part, by viaSport BC and the Province of British Columbia.

Subscribe to our newsletter
Receive the latest news updates, tournaments, programs, services and discounts.