Draw 4 of the BC Scotties & Men's Championships showcases intensity and grit
January 12, 2023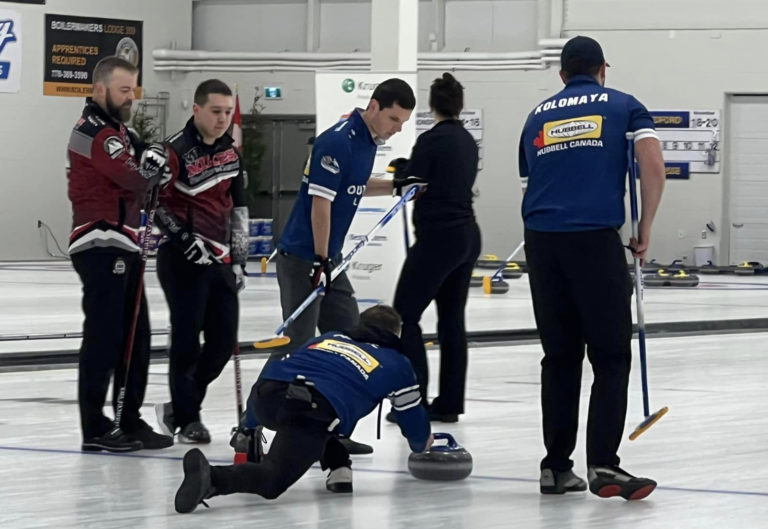 Day 2 of the 2023 BC Men's and BC Scotties Women's Curling Championships started bright and early with six games on the ice at the Chilliwack Curling Club.
In men's action, the A-Event continued on with two A-semis on the ice. The first game was a Royal City battle with Team Pierce (Royal City) meeting Team Robillard (Royal City, Nelson). This A-semi was filled with intensity as these teams have met multiple times this season on tour. In the end, Team Pierce   moves on to the A-Qualifier game by a score of 10-5 thanks to a dominant last half by the defending champs.
Fans didn't have to look far to find the other men's A-semi – it was just on the next sheet over. Team Cotter (Vernon, Kelowna, Kamloops) faced off against Team Gauthier (Victoria) for the second spot in the A-Qualifier game. The morning favored Team Gauthier in thanks to a steal of 1 in 6 followed by a steal of 2 in 7. With a score of 6-2 after 8 ends, Team cotter elected to concede the game after 8.
The A-Qualifier game featuring teams Pierce and Gauthier takes place at 7:00pm tonight.
In other men's action from the B-Event, Team Joanisse (Golden Ears) took on the team from the Kootenays, Team Medford (Kimberley, Cranbrook). Both of these teams, who qualified for this championship through the December Open Qualifier, put on a good show. Team Joanisse claimed victory with a score of 7-5 thanks to the hammer in 10 and a nice pick out by skip Dean Joanisse.
The second B-Event game on the men's side put 2022 BC U18 Champions Team Fenton (Royal City, Comox) against 2022 BC Men's Finalists Team Cseke (Victoria). Team Cseke kept themselves controlled most of the game in thanks to steal of the 3rd to make the final 8-2 after 8 ends.
Team Joanisse will play against Team Robillard in their next B-Event game this afternoon at 2:00pm. Playing next to them will be Team Cotter and Team Cseke
Team Medford will play next at 7:00pm tonight. Team Fenton will play at 9:00am tomorrow morning. Both teams will learn who their opponent is after some of today's further draws.
On the women's side, B-Event action saw Team Reese-Hansen (Victoria, Kamloops) taking on Team Cowan (Royal City, Vancouver). Team Reese-Hansen got off to a 5-1 start however Team Cowan showed their grit and battled back to tie the game at 6-6 after 8 ends. Team Reese-Hansen stayed in the B-Event by a score of 9-6. Team Cowan falls to a must-win C-Event game at 7:00pm tonight against Team Jensen (Richmond, Royal City).
In the other women's B-Event game, Team Ryan (Golden Ears) was looking to bounce back against Team Wark (Abbotsford). The game was close, but eventually the win was picked up by Team Ryan by a score of 10-8. Team Wark will fall to the C-Event to face Team Gushulak (Vernon, Royal City, Prince George, Winfield) at 7:00om tonight.
Team Reese-Hansen plays in the B-semi against Team Ryan at 2:00pm this afternoon.
Catch all of the action on www.youtube.com/@CurlBCTV/streams.
This event is supported in part by grants from the Province of British Columbia, Hosting BC, Tourism BC, and viaSport BC.
Subscribe to our newsletter
Receive the latest news updates, tournaments, programs, services and discounts.