Draw 10 brings pitched battles, sets up semi-finals for the 2023 BC Men's Curling Championship
January 14, 2023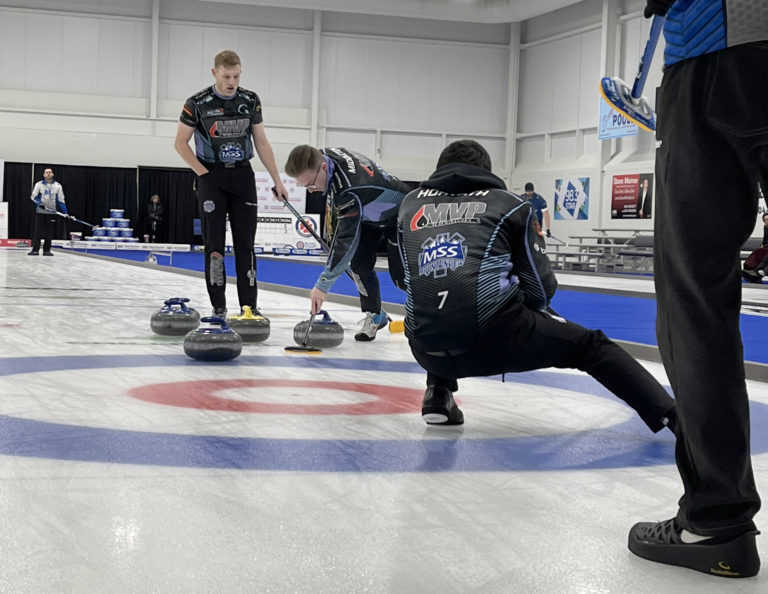 The 2023 BC Men's Curling Championships playoffs kicked off this morning with the Page 1v2 and the Page 3v4 games.
In the Page 1v2, A-Qualifier Team Gauthier (Victoria) and B-Qualifier Team Cotter (Vernon, Kelowna, Kamloops) faced off for a second time this week. Team Gauthier was, unfortunately, missing their skip in this game, but pushed on to try to replicate their previous victory over Team Cotter. Each team only managed to score singles through seven ends, but Team Gauthier cracked the game open with three points in the eighth end. They stole a point in the ninth end to go up 8-3, prompting handshakes from Team Cotter. Team Gauthier is now locked into a spot in the provincial final tomorrow at 2:00pm.
In the Page 3v4 game, the C-Qualifiers were vying for a spot in the semi-final. In this Royal City battle, Team Pierce (Royal City) hoped to use their experience to send relative newcomers Team Tanaka (Royal City, Richmond) home. Team Tanaka showcased some incredible shot making but they couldn't close the game in the extra end. Team Pierce stole the spot in the semi-final with a score of 11-9.
Team Cotter will now face Team Pierce in the semi-final at 7:00pm tonight. This is a rematch of the B-Qualifier game that Team Cotter had won 9-8.
This afternoon's draw at 2:00pm will mark the next stage of the playoffs for the women's side of the competition with the semi-final being the lone game on the ice. Team Grandy (Vancouver) will be facing Team Reese-Hansen (Victoria, Kamloops) for a chance to take on Team Brown (Kamloops, Penticton) in the championship final.
Catch all of the action on www.youtube.com/@CurlBCTV/streams or on CHEK/CBC.
This event is supported in part by grants from the Province of British Columbia, Hosting BC, Tourism BC, and viaSport BC.
Subscribe to our newsletter
Receive the latest news updates, tournaments, programs, services and discounts.