Debut for new Team Canada in PG
March 11, 2020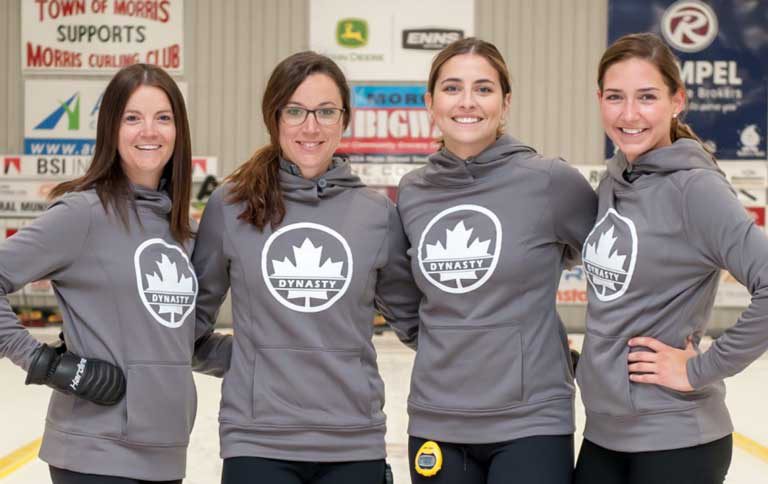 A Canadian team will make its world championship debut when the 2020 World Women's Curling Championship, presented by Nature's Bounty Vitamins, gets underway on Saturday at the CN Centre in Prince George.
Kerri Einarson's team from Gimli, Man. — rounded out by vice-skip Val Sweeting, second Shannon Birchard, lead Briane Meilleur, alternate Jennifer Clark-Rouire, team coach Patti Wuthrich and national coach Elaine Dagg-Jackson — will make its debut as Team Canada on Saturday night, 7 p.m. (all times Pacific) against Scotland's Eve Muirhead.
Team Einarson qualified for the World Women's by winning the 2020 Scotties Tournament of Hearts last month in Moose Jaw, Sask.
Birchard (2018 with Jennifer Jones) and Clark-Rouire (2008, 2009, 2010, 2015) have previous world championship experience, but only as alternates.
Thirteen teams will open play at Saturday at the CN Centre, with the first draw set for 2 p.m., following the opening ceremony at 11:30 a.m., which is free to attend.
Team Einarson will be looking to get Canada back on the podium after Chelsea Carey's Canadian champs missed the playoffs at the 2019 World Women's Championship in Silkeborg, Denmark.
And that won't be the only thing at stake for the Canadian team, as well as the other 12 competing countries — the 2020 World Women's Championship will be the first event in which Olympic qualifying points are available. The combined results of the 2020 and 2021 (in Schaffhausen, Switzerland) world championships will determine seven of the 10 countries that will compete for gold at the 2022 Winter Olympics in Beijing. China will have an automatic berth in 2022 as the host country, and the final two Olympic entrants will be determined at the Olympic Qualifying Event in December 2021.
Two medallists from the 2018 Winter Games in Pyeongchang, South Korea, will be in Prince George — gold-medallist Anna Hasselborg (a silver-medallist at the past two world championships) and bronze-medallist Satsuki Fujisawa of Japan.
Muirhead also has Olympic history as a bronze-medallist in 2014 at Sochi, Russia.
Also competing will be China's Yu Han, the Czech Republic's Anna Kubeskova, Denmark's Mathilde Halse, Germany's Daniela Jentsch, Italy's Veronica Zappone, Russia's Alina Kovaleva, South Korea's Un Chi Gim, Switzerland's Briar Hürlimann and Tabitha Peterson of the United States.
Round-robin play will run through to Friday, March 20, with the top six teams making the playoffs; no tiebreakers will be played, so ties for playoff spots will be broken based on head-to-head results, and if that doesn't resolve the tie, then the pre-game Last-Shot Draw distances.
The top two teams from round-robin play will be seeded directly into the semifinals, while third will play sixth and fourth will play fifth in the qualification games on March 21.
The winners will advance to the semifinals later on Saturday. The semifinal winners will play for gold on March 22 at 4 p.m., with the semifinal losers battling for bronze on March 22 at 11 a.m.
TSN/RDS2, the official broadcast partner of Curling Canada, will provide live coverage of Canada's round-robin games, in addition to all playoff games.
It's the 16th time that Canada has hosted the World Women's Championship since it began in 1979 in Perth, Scotland, and the first time it's happened in Prince George.
Canada has won a leading 17 gold medals at the World Women's since 1979, followed by Sweden with eight and defending champion Switzerland with seven. Last year at Silkeborg, Switzerland's Silvana Tirinzoni won the gold medal — a fifth Swiss world title in the past eight years. Canada last prevailed in 2018 at North Bay, where Jones skipped the Canadian team to victory.
You can find ticket information, draw times, team lineups and live scoring, and more, at the event website: www.curling.ca/2020worldwomen/
Subscribe to our newsletter
Receive the latest news updates, tournaments, programs, services and discounts.