Day Two of the Connect Hearing BC Masters: critical games, strong wins
February 24, 2023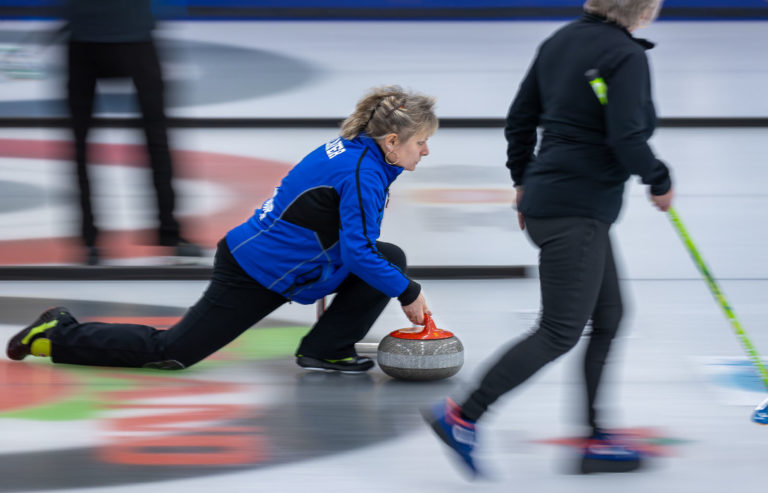 Draw 4
Only two men's games from the B-Event took place during Draw 4 of the 2023 Connect Hearing BC Masters Curling Championships.
After a strong win in their first B-Event game, Team Kavanagh (Peace Arch) met with Team Lepine. Team Lepine took the game with a 7-6 extra end win.
Team King (Kelowna) stole their way into this game against Team Sieg (Cloverdale). This morning draw favored Team Sieg who won 7-4. .
Team [Loser Kavanagh/B6] and Team [Loser Sieg/King] both fall to the C-Event and will play each other again in Draw 6.
Draw 5
Two critical A-Qualifier games took place during Draw 5 this afternoon.
On the women's side, Team Klebe (Chilliwack, Richmond, Cloverdale, Langley) played against Team Shantz In a back and forth battle, it was Team Shantz who made a fantastic shot for the win, coming out on top by a score of 5-4. With this, they earn a spot in Sunday's championship final at 9:00am.
On the men's side, the A-Qualifier game featured Team Craig and Team [Winner Van Yzerloo. Team Van Yzerloo earned their spot in Saturday morning's Page 1v2 game, finishing the game with 3 points compared to Craigs 2.
In other action, Team Mychaluk looked to bounce back on the women's side against Team Konyer. Team Mychaluk won and advances to Friday's B-Qualifier game against Team Klebe. Team Konyer falls to the C-Event to face Team Shearer on Friday as well.
The last game on the ice in this draw came from the men's C-Event with Team Shimizu (Richmond/Vancouver) and Team Feltham (Parksville) both wanting to keep their runs alive at this event. In the end, it was Team Shimizu who came out on top, 4-2.
Draw 6
The last draw of Day 2 showed no signs of slowing down in Parksville.
Two of the games on the ice would determine the teams in tomorrow morning's B-Qualifier game. The first of these games featured Team Craig and Team Lepine. Team Lepine got the first spot in the B-Qualifier game with a 6-3 win. The second game featured Team Sieg and Team Sulz. A 7-3 win got Team Sieg the second spot in the B-Qualifier, scheduled for 9:00am Friday.
The final game on the ice in Draw 6 was from the C-Event. With both Team King and Team Kavanagh on their last life, the game was fierce. In the end, Team Kavanagh pushed through and advance to a C-Qualifier game against Team Craig, Friday at 2:00pm.
Watch the games live online at youtube.com/@CurlBCTV/streams.
Get the scores and schedule here: Men's, Women's
This event is supported in part by grants from the Province of British Columbia and Hosting BC.
Photo: BC Masters Championship 2023, © Steve Seixeiro
Subscribe to our newsletter
Receive the latest news updates, tournaments, programs, services and discounts.