Day One of the BC Scotties & Men's Championships brings familiar faces and lively play
January 11, 2023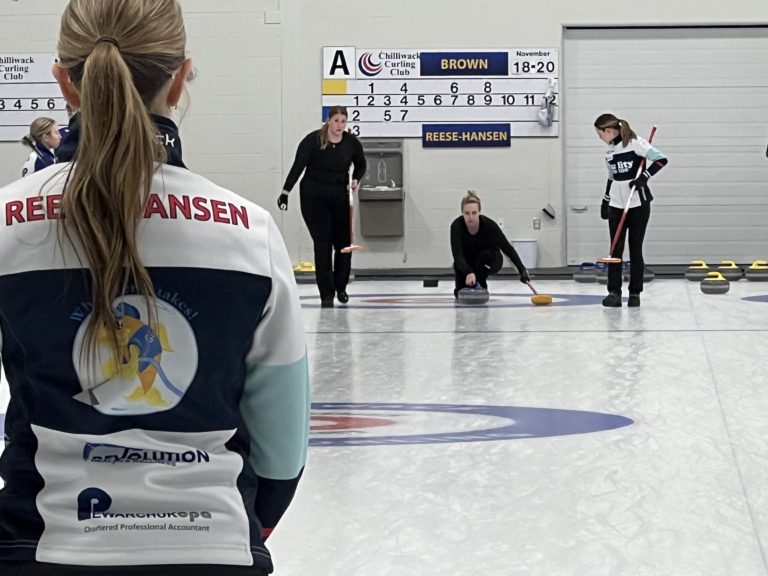 Day 1 of the 2023 BC Men's and BC Scotties Women's Curling Championships was full of action. With 3 draws and the opening ceremony, there was plenty for fans to see.
Draw 1 began this morning at 9:00am and marked the first game of the tournament for all the BC Scotties Women's competitors. With four games on the ice, there was plenty of great curling to watch right away.
CTRS Qualifier #1Team Grandy (Vancouver) met Open C-Qualifier Team Cowan (Royal City, Vancouver) in their opening match. After a solid start that put them up seven points headed into the break, Team Grandy sealed the win 9-3.
Right beside them were BC Curling Tour Qualifier #2 Team Jensen (Richmond, Royal City) and Open A-Qualifier Team Ryan (Golden Ears). These teams have met twice already this season on the BC Curling Tour, with Team Jensen winning both meetings 10-1 and 7-1. This time around, it was Team Ryan who came out victorious, 6-3.
The third game of this draw featured BC Curling Tour Qualifier #1 Team Gushulak (Vernon, Royal City, Prince George, Winfield) and Open B-Qualifier Team Reese-Hansen (Victoria, Kamloops). These teams have met once this season at the Prestige Hotels & Resorts Curling Classic, with Team Reese-Hansen taking that game 6-5. Team Gushulak was not able to solve their opponent in this meeting, leaving Team Reese-Hansen to take the 9-7.
The final game of Draw 1 was a rematch of former BC Scotties champions: CTRS Qualifier #2 Team Brown (Kamloops, Penticton) and Open C-Qualifier Team Wark (Abbotsford). Team Brown had a strong performance after the break, scoring seven points, propelling them to an 8-5 win.
The winning teams earned themselves a break until Draw 3 at 7:00pm, while the losing teams jumped back on the ice for a Draw 2 at 2:00pm, along with some of the men's teams who were just starting their tournament.
In the break between Draws 1 and 2, the opening ceremonies took place. Every team in the BC Men's and BC Scotties Women's took part in this welcome to the ice. The opening rock was thrown to much applause by some of Chilliwack Curling Club's junior curlers.
Team Cowan found themselves in a close game in their Draw 2 game against Team Jensen but managed to score a single point in the final end to win 5-4. However, an even closer game on the women's side was taking place with Team Wark stealing two points in an extra end to best Team Gushulak 9-7.
Team Cowan and Team Wark continue on in the B-Event, while Team Jensen and Team Gushulak fall into must-win positions in the C-Event.
On the men's side, there were four games going to get the event started.
Open B-Qualifier Team Joanisse (Golden Ears) and Open A-Qualifier Team Montgomery (Victoria) battled back and forth in the first half of their matchup. It was a steal of three in the seventh end by Team Montgomery that led them to a 7-4 win.
Open C-Qualifier Team Fenton (Royal City, Comox) and BC Curling Tour Qualifier #1 Team de Jong had a game that came down to the last rock. Team de Jong successfully completed the hit and stay in the tenth end to win the game 8-6.
The additional men's Open C-Qualifier, Team Cotter (Vernon, Kamloops) found themselves against BC Curling Tour Qualifier #2 Team Tanaka (Royal City, Richmond). This game was another one of the stolen wins today, with Team Cotter stealing a single in the tenth end to put them on top 5-4.
The last men's game in this draw featured Open B-Qualifier Team Medford (Kimberley, Cranbrook) and BC Curling Tour Qualifier #3 Team Geall (Salmon Arm, Penticton, Kamloops). Steals in the ninth, tenth and extra ends put the win in the hands of Team Medford, 8-7.
Each of the winning teams moved on through the A-Event to play at 7:00pm tonight, where their opponents awaited them. Those four men's games played alongside the two A-Event games from the women's event. The losing men's teams play in Draw 4 tomorrow at 9:00am.
In Draw 3, Team de Jong got back on the ice to face CTRS Qualifier #2 Team Robillard (Royal City, Nelson). Team de Jong stole singles in the third and fourth ends, but a score of three by Team Robillard in the fifth end proved to be the turning point. The momentum carried Team Robillard to an 8-5 win.
Defending champions Team Pierce (Royal City) got their competition started against Team Montgomery. Team Pierce took full advantage of their extra end hammer to score two. Final score was 7-5.
Team Pierce will face Team Robillard in their next game at 9:00am tomorrow morning. Team de Jong will fall to the B-Event to face Team Tanaka. Team Montgomery will face Team Geall, also in the B-Event. Both B-Event matchups will happen at 2:00pm tomorrow.
CTRS Qualifier #1 Team Gauthier (Victoria) started with the hammer against Team Medford. The game started with singles all around, but Team Gauthier managed to score a couple deuces to secure the win 7-4.
CTRS Qualifier #2 Team Cseke (Victoria) managed to open their game against Team Cotter with a single point, but two scores of three points by Team Cotter in the last half of the game earned the former BC champion the win 10-4.
Team Gauthier will face Team Cotter in an A-Event game tomorrow at 9:00am. Team Medford goes to the B-Event to go head-to-head against Team Joanisse, and Team Cseke will meet Team Fenton. These B-Event games will happen at 9:00am tomorrow morning.
The women's A-Event saw Team Ryan start with a steal of 2 over Team Grandy. Team Grandy's tour experience showed as they pushed through for a strong close, finishing the game 12-7.
Team Brown also opened their game against Team Reese-Hansen with a steal of 2. They kept the momentum going through the whole game to put themselves in the A-Qualifier game tomorrow afternoon against Team Grandy at 2:00pm.
Team Ryan plays at 9:00am tomorrow in the B-Event against Team Wark. Team Reese-Hansen also plays at 9:00am tomorrow against Team Cowan.
Catch all of the action on www.youtube.com/@CurlBCTV/streams at 9:00am, 2:00pm and 7:00pm tomorrow.
This event is supported in part by grants from the Province of British Columbia, Hosting BC, Tourism BC, and viaSport BC.
Subscribe to our newsletter
Receive the latest news updates, tournaments, programs, services and discounts.