Day One at the Connect Hearing BC Masters: notable names and spirited play
February 23, 2023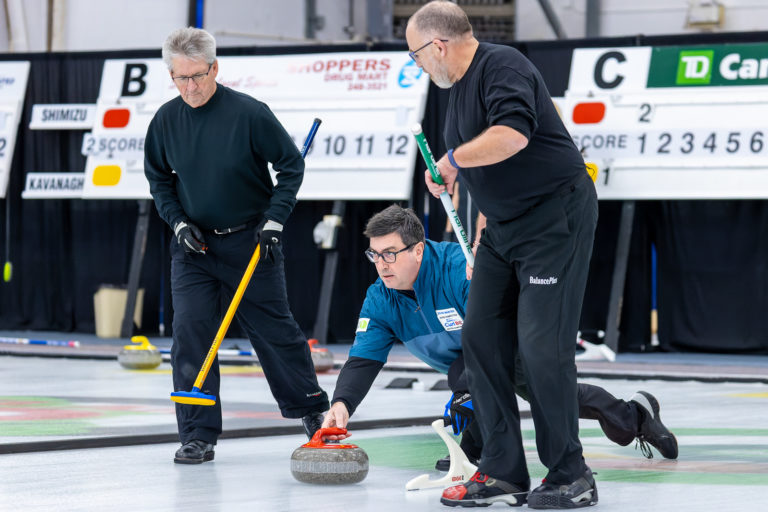 Draw One
This week, teams are headed over to Parksville, BC for the 2023 Connect Hearing BC Masters. Draw One featured eight of the nine men's teams competing in this triple knockout championship.
Team Kavanagh (Peace Arch) started their week against Team Sieg (Cloverdale). In this game between Lower Mainland teams, it was Team Sieg moving on with a 6-2 win in the A-Event.
There were many familiar names in the next game on the ice with Team Lepine (Royal City, Langley, Penticton, Cloverdale) and Team Shimizu (Richmond, Vancouver). Team Lepine came out on top in this opening match by a score of 7-5.
Coming all the way from the Kootenays, Team VanYzerloo (Castlegar) were looking to get a strong start to the week. Only local Team Feltham (Parksville) stood in their way. After the dust settled, Team VanYzerloo had won the game 7-4
The last game on the ice was Team King (Kelowna) versus Team Sulz (Parksville). Team Sulz pushed through to a 9-5 win in this Draw 1 matchup.
Draw Two
Draw Two saw the first of the women's games hit the ice in Parksville for the 2023 Connect Hearing BC Masters Curling Championships.
Team Konyer (Nanaimo) kicked off against Team Mychaluk (Royal City, Langley). Team Mychaluk grabbed the win, 7-3.
In the other women's game, Team Shearer (Parksville) took on Team Klebe (Chilliwack, Richmond, Cloverdale, Langley). With a score of 9-5, Team Klebe earned themselves a spot in the A-Qualifier game
Men's action also continued in Draw 2, with defending champions Team Craig (Comox, Duncan, Victoria) having their 2023 debut game against Team Sieg. Team Craig stayed up in the A-Event with a 7-5 win.
In the men's B-Event, Team Kavanaugh and Team Shimizu  met to see who would be the lucky team to grab their first win. Team Kavanaugh was one step ahead and nabbed a 9-4 win.
The last game in this busy draw was another men's B-Event game. Team Feltham faced off against Team King. Team King won this match by a score of 7-6
Draw Three
Men's A-Event, Women's A-Event and Women's B-Event games were on the ice during Draw 3 of the 2023 Connect Hearing BC Masters Curling Championships to close out Day 1.
In the men's A-Event games there was Team Craig versus Team Lepine and Team VanYzerloo versus Team Sulz. The two teams getting the wins and their spots in their A-Qualifier game winners were Team Craig (Score: 4-2) and Team VanYzerloo (Score: 6-5).
On the women's side, Team Shantz (Qualicum, Parksville, Penticton) kicked off their competition against Team Mychaluk who were fresh off a Draw Two win. In the end, it was Team Shantz nabbing the second spot in the A-Qualifier game, 7-3.
The remaining women's game from the B-Event had Team Konyer against Team Shearer. A strong performance from Team Konyer got them a win with a score of 7-3.
Watch the games live online at youtube.com/@CurlBCTV/streams.
Get the scores and schedule here: Men's, Women's
This event is supported in part by grants from the Province of British Columbia and Hosting BC.
Photo: BC Masters Championship 2023 February 22, 2023, © Steve Seixeiro
Subscribe to our newsletter
Receive the latest news updates, tournaments, programs, services and discounts.