Day 6 of the BC Curling Championships – Arsenault, Richard take gold
January 10, 2022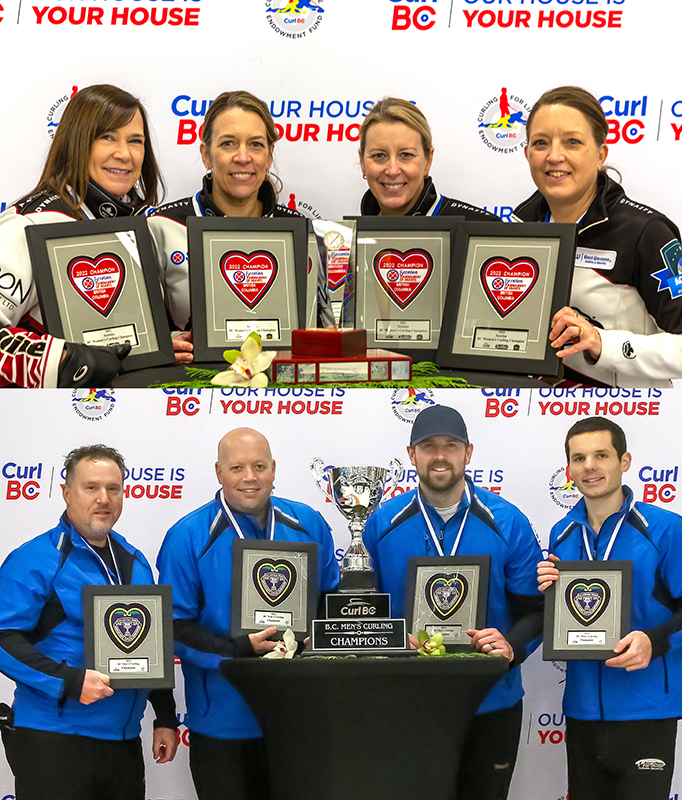 The finals of the 2022 Scotties BC Women's and the BC Men's Curling Championship saw some dedicated play and intense moments. There was a come-from behind victory, heart-breaking stone placements, and, in both cases, proverbial battles between youth and experience.
There was also tension – a lot of tension.
The women's final, at 9:00am, pit Team Arsenault against Team MacMillan in a case of the seasoned pro against the rising star. Arsenault scored first, in the second, but from then on in it was to be a wild ride with the lead flip-flopping a number of times.
A nail-biter to the end, the struggle became tied up in the seventh, only to see MacMillan take a steal, and the lead, in the eighth. Arsenault then put three on the board in the ninth, pulling back in front. The tenth then saw Arsenault throw up an impenetrable wall of stones, preventing a MacMillan takeout—and potential win—and ending the game with an 8-6 Arsenault victory.
Skip Mary-Anne Arsenault, a recent transplant from Nova Scotia, is a five-time Canadian champion and two-time world champion. This is her fist appearance at the BC Scotties, and her first win.
While opposing skip Kayla MacMillan couldn't match Arsenault in experience and championship wins, it's obvious that the 23-year-old will play a big part in the future of BC curling. Today may not have gone her way, but the poise, skill, and precision with which she played shows that her time is clearly coming.
At the men's championship game, beginning at 2:00pm, we saw the final tilt between Team Cseke and Team Richard. Now, the Cseke Cinderella story has been one of the big narratives of the last week, with the young team knocking off some giants like CTRS leaders Team Tardi, and 9-time BC champion Jim Cotter. What's more, Team Cseke was also undefeated headed into the final, and had already defeated Team Richard twice in the last six days.
If last night's victory over Team Cotter was any indication, however, Team Richard was clearly dialed-in and ready for all comers. The focus, determination, and skill that they displayed in the semi-final would no doubt give pause to any potential challengers.
As the game began, Skip Paul Cseke's first shot of the game was beautiful run back which led to a one-point lead. Richard came roaring back with a 3-point third, but Cseke was able to catch up in the 4th with a beautifully placed stone. Richard retook the lead in the fifth, and, along with huge steal, ran up a three-point lead. Cseke managed to score one each in the sixth and seventh, but the team still sat one point behind Richard. Despite additional points made by each team, Richard would maintain their lead after a masterful placement by Team Richard skip Brent Pierce. Paul Cseke then tied it up at the last minute in the tenth, forcing an extra end. It wasn't to be Cseke's day, however, as Pierce then dropped a perfect takeout, delivering a 9-8 win for Team Richard.
Both newly-minted champions, Teams Arsenault and Richard, will now go on to represent BC in in a quest for national titles. Arsenault will head for the Scotties Tournament of Hearts, January 28-February 6, In Thunder Bay, ON; Richard will go to the Tim Hortons Brier, March 4-13, In Lethbridge, AB.
Subscribe to our newsletter
Receive the latest news updates, tournaments, programs, services and discounts.