Day 5 of the BC U21 Curling Championships: gold medal time
February 27, 2022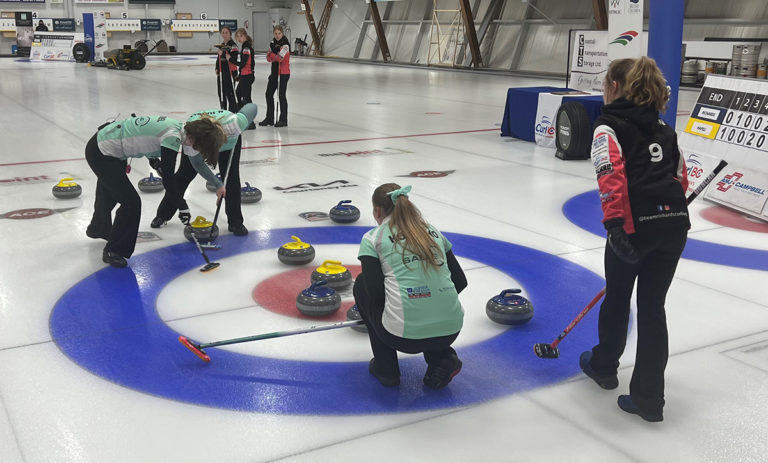 Today was the day for the two BC U21 championship games, and the excitement level couldn't have been higher. With local fans cheering on the home team and out-of-towners cheering on the others, there was an air of electricity at the Comox Valley Curling Club that only comes with a provincial championship.
First up was the men's final, at 9:00am, which pit the undefeated Team Deane vs. Team Fenton. Evenly-matched, and with both rinks hailing from the Royal City Curling Club, the two teams hit the ice eager to play. Deane, which led with hammer, racked up one in the first, followed by one Fenton point each in both the second and the third. Then, in the fourth—and in a surprise to all—the city of Courtenay's power went out, likely as a result of the previous night's snowstorm.
Luckliy, the lights were back on within minutes and the game resumed before any ice could melt, with Deane making two points in short order and pulling into the lead. Fenton countered with two of their own over the next two ends, once again taking the lead at the end of the sixth.
Not to be outdone, Deane scored two in the seventh, continuing the see-law lead—but now that they had the advantage, Deane would not only hold onto it, but add on two more points in the ninth, ending the game with handshakes and a final score of 7-5.
Although only one team could win the gold medal, both teams were already guaranteed entry at the national U21 championships in Stratford, ON, as a result of an extra BC berth due to Nunavut's pullout.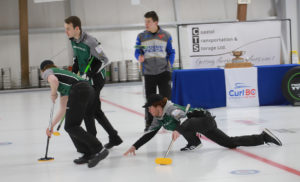 For the women's championship, Team Richards and the undefeated Team Hafeli squared off at 2:00pm. Like the men's championship match, things started out slowly, with each team on the board with one through the third. In the fourth, however, Hafeli scored two, which Richards countered by scoring two of their own in the fifth. Once again, things were all tied up.
After the fifth-end break, Hafeli came roaring back like a hurricane, with two in the sixth, another in the seventh, a fourth in the eighth, and two more in the ninth to win the game—and the women's championship title—9-3.
The day capped a thrilling week at the Comox Valley Curling Club, made possible by the hard work of many people including host committee chairs Carol Anne and Bill Parkinson, club manager Keith Parry, icemaker Gord Twanow, chief umpire Phil Mackenzie, plus plenty of hard-working officials, coaches, volunteers, and, of course, the athletes themselves. Good curling, indeed!
Subscribe to our newsletter
Receive the latest news updates, tournaments, programs, services and discounts.