Day 4 of the BC U21 Curling Championships: into the playoffs
February 26, 2022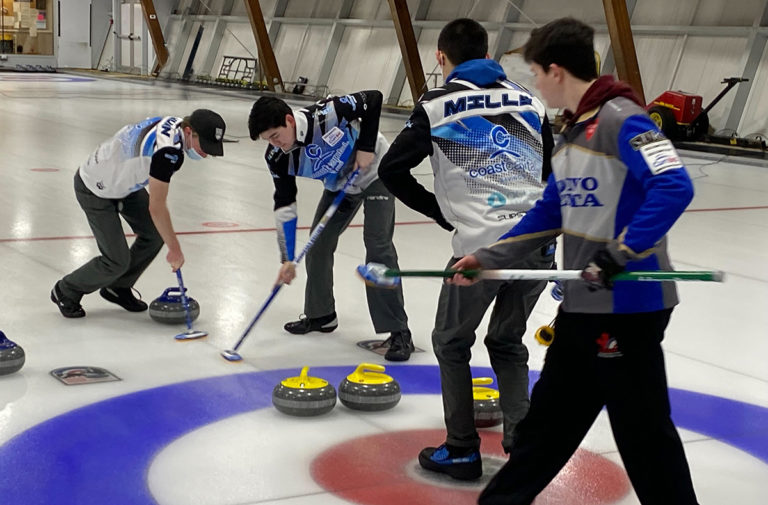 The fourth day of the BC U21 Curling Championships was a big one for everyone involved, as all teams jockeyed for position throughout the various playoff games. With a ticket to the finals on the line, the day was truly a do-or-die affair.
The morning began with two gripping back-and forth women's page playoffs, featuring Team Bowles vs. Team Hafeli and Team Richards vs. Team Buchy.
The Bowles-Hafeli match was a see-saw ride from the get-go, with Bowles leading first, then Hafeli, then a tie leading into the tenth, when Hafeli was sitting on one and Bowles came in heavy. The final score was 6-5 for Hafeli.
Two sheets over, the Richards-Buchy contest saw an early tug-of-war, with Richards stealing in the third and moving ahead, and then Buchy tying it back up in the fourth and stealing in the eighth. It was to be a Richards, victory, however with a tenth-end rollout on a Buchy takeout attempt, and a final score of 8-7.
The 2:00pm men's semi-final saw Teams Kent and Fenton square off, and with both rinks hailing from the Royal City Curling Club in New Westminster, it was a true battle royale. After a slow start, 2022 U18 champs Fenton stepped on the gas with three points in the third and kept up their lead, despite a Kent rally in the fifth. In the eighth, however, Kent tied things up—only to see their momentum stalled after two-points by their opponents, leading to a 8-7 Fenton victory.
The evening saw the women's semi-final contest between Team Bowles—2022 U18 silver medalists and 2021 BC U21 Special Worlds Qualifier women's champs—and 2022 U18 champs Team Richards. The early ends were evenly-matched and saw the lead switch back-and-forth; then Richards broke things wide open with a four-point fifth, and despite moderate gains by Bowles, racked up two more insurance points in the eighth, followed by another two in the ninth for a final score of 11-5.
Tomorrow: it's time for both the men's and women's finals—and the crowning of the 2022 BC U21 champions.
Subscribe to our newsletter
Receive the latest news updates, tournaments, programs, services and discounts.