Day 4 of the BC Curling Championships: down to brass tacks
January 08, 2022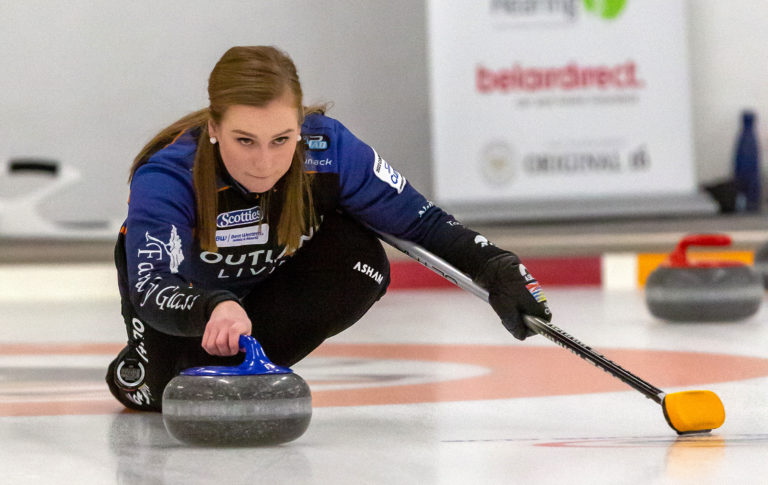 With a number of teams teetering on the brink of elimination—and others already sent packing—the preliminary portion of the 2022 Scotties BC Women's and BC Men's Curling Championship yesterday entered its endgame and led into the women's page playoff.
The day also saw some big names eliminated from competition, with Teams Robillard, de Jong, Nobert, Cowan, Gushulak, and Brown all seeing their quest for the championship end.
Now, with the men's page playoff—followed by both the man's and women's semi-finals—taking place this morning, we're about to see things get really serious.
As for yesterday, however, here's the game-by-game details:
In Men's Draw 9, at 9:00am, Team Cotter defeated Team Richard in a 7-6 nail-biter, Team Tardi handily defeated Team de Jong, and, in the Team Robillard-Team Nobert tilt, Robillard grabbed the advantage from the beginning and never let up until they'd run up the score 8-3.
Also at 9:00am, in Women's Draw 9, Team Arsenault edged out Team Gushulak 8-6 in a well-matched effort to stay in contention.
Draw 10 saw a do-or-die Men's matchup at 2:00pm between Team Cotter and Team Robillard, with Cotter taking the win 7-3 by employing an impressive display of stone placement and strategy.
Women's Draw 10, also at 2:00pm, brought two big battles, with Team Brown roughing up Team Cowan 8-1, and a knock-down drag-out battle which saw Team Wark finally edge out Team Gushulak 10-8, after 10 ends of intense play.
Finally, Women's Draw 11—the women's page playoff—saw Team Macmillan defeat Team Arsenault in a well-played 6-5 duel. The team percentages topped off at 74% for Macmillan and 71% for Arsenault. Arsenault lead Renee Simons was 80% for the game and third Jeanna Schraeder played 74%, while second Sasha Carter struggled at 64% for the game. Overall, the Team percentage for Macmillan was 74%, with lead Sarah Loken earning high-percentage player of the game with 84%, and setting her team up by putting the first two of her rocks each end where they were required to be. Kayla Macmillan had hammer in the extra end and that made all the difference, as she peeled her way to victory and made a nice hit and roll out on a partially buried rocks with her last stone.
On the other sheet, Team Wark brought down hometown heroines Team Brown in a ten-end slugfest. The game saw Team Wark break out to the early 4-1 lead before Corryn Brown counted 3 in 5 to take a 1-point lead. In this high-scoring affair of long-time rivals, Team Wark answered back with 3 in 9 and a steal in 10 to keep their bid to return to the Scotties Tournament of Hearts alive in today's semi-final game.
In other news, Jim Cotter of Team Cotter was nominated by his fellow players to win the Curl BC Men's Sportsmanship award, underlining the great well of respect and support Cotter enjoys among his peers.
This morning, we'll see the men's page playoffs at 9:00am, featuring Team Tardi vs. Team Cotter, and Team Cseke vs. Team Richard. The winner of the Tardi-Cotter game will advance to the semi-finals, as will the loser in the Cseke-Richard matchup. Winner of Cseke-Richard will get a bye to the men's final tomorrow.
The women's semi-final, which will see Team Arsenault square off against team Wark, takes place at 2:00pm today, with the winner going on to face Team Macmillan in the final tomorrow morning.
Catch all of today's action live, with commentary by Melissa Soligo and John Cullen. The men's page playoff—featuring a Team Cotter-Team Tardi re-match—airs live on Curl BC's YouTube Channel at 9:00am. The women's semi-finals follows at 2:00pm, and the men's semi-finals at 7:00pm, both airing on CHEK-TV and www.cbcsports.ca.
Feeling lucky? don't miss out on the Kamloops Curling Club's 2022 BC Scotties and BC Men's raffle, tickets are only $10 each and you can purchase them at https://kamloopscurlingclub.rafflenexus.com. Only 500 tickets will be sold. There are $500, $250, and $125 prizes – enter early, enter often!
Subscribe to our newsletter
Receive the latest news updates, tournaments, programs, services and discounts.