Day 3 of the BC U21 Curling Championships: The field narrows
February 25, 2022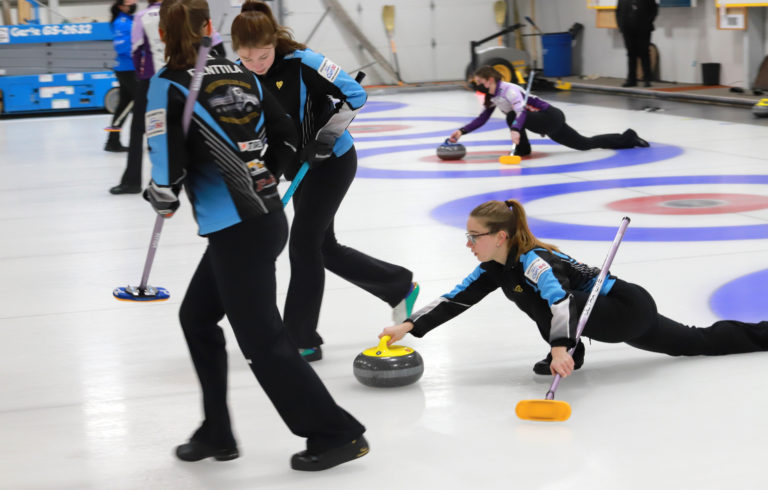 It's the third day of the BC U21 Curling Championships and the chips are down. With advancement to the playoffs and semi-finals on the line, the competition has been fierce as teams go head-to head to stay in the hunt.
The morning draw, number seven, was a women-only event and saw all ten women's teams compete.
In a low-scoring duel, Team Wong topped Team Wheatcroft 4-2; Team Bowles took an early lead over Team Woike and never looked back, winning their game 8-2 with handshakes after the sixth; Team Hafeli defeated Team Coles-Lyster 9-2 in seven; Team Brissette ran up an 11-4 victory over Team Richards; and in three-hour back-and-forth battle, Team Buchy defeated Team Wilson 9-7 in the tenth.
At 7:00pm, the women's championship entered the playoff phase, with Team Richards blanking Team Wong 10-0 in six, and Team Buchy and Team Brissette in a nine-end tug-of-war that ended in a 10-7 Buchy victory.
Draw eight, at 2:00pm, saw the men take to the ice and the competition was no less fierce than with the women. All three games started out low-scoring, but then broke wide open in the later ends.
Despite scoring first, Team Kopytko was overtaken by Team Deane 6-4; the Team Fenton-Team Deng tilt had a see-sawing score which eventually went to Fenton 7-6; and Team Kent overcame Team Parkinson 8-1 in the ninth.
Tomorrow: it's time for the women's page playoffs and semi-final, and the men's semi-final.
Subscribe to our newsletter
Receive the latest news updates, tournaments, programs, services and discounts.