Day 3 of the BC U21 Championships Reveals the Final Four
January 28, 2023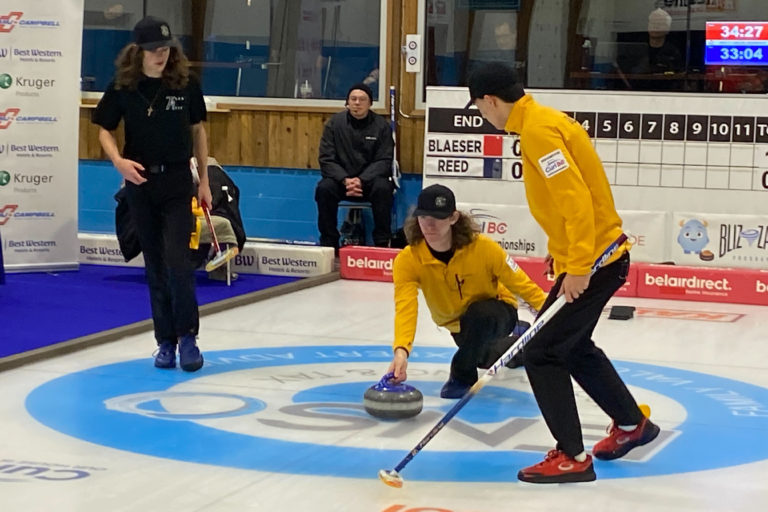 The excitement kept building all day Saturday at the Duncan Curling Club as the 2023 BC U21 championships moved into its endgame.
After a morning off for practice and rest, Draw Six started at 2:00pm for both the men and the women.
On sheet 3, Team Nolan Blaeser took on Team Thomas Reed in the men's semi-final which saw the lead see-saw through the early ends and then get tied up in the sixth. Team Reed the broke things open with a point in the eighth, then added another in the tenth to take a 5-3 win. At the conclusion of the game, Team Blaeser was awarded bronze medals, and Team Reed began to prepare for their matchup against Team Adam Fenton in Sunday's final.
Over on sheet 1, The C Qualifer saw Team Bryelle Wong face Team Elizabeth Bowles in another closely-matched game which saw the lead flip-flop multiple times before becoming tied up in the eighth. Team Wong then racked up two more points over the next two ends, securing a 6-4 win and their place in the women's semi-final.
Team Wong returned to the ice at 7:00pm for Draw 7, the women's semi-final with Team Holly Hafeli. From the get-go, Hafeli dominated the proceedings, starting with two points in the second, one more in the fourth, and then another five across the sixth and seventh. Wong managed to get one on the board in the fifth, but it wasn't enough to stop the Hafeli juggernaut. In the end, Hafeli sealed the deal—and their spot in the final—with an 10-1 victory and bronze medals for Wong.
Tomorrow: Teams Adam Fenton and Thomas Reed meet in the men's final at 9:00am; Teams Holly Hafeli takes on Team Emily Bowles in the women's final at 2:00pm
Subscribe to our newsletter
Receive the latest news updates, tournaments, programs, services and discounts.