Day 3 of BC Curling Championships sees the field narrow
January 07, 2022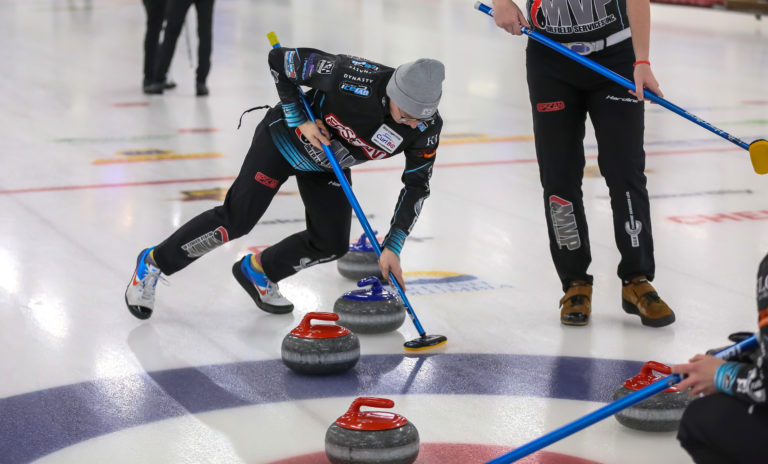 Yesterday saw some exciting action at the 2022 Scotties BC Women's Curling Championship, Presented by Best Western, and the 2022 BC Men's Curling Championship.
As things heated up on the ice at the Kamloops Curling Club, day 3 saw the first eliminations, with Teams Kopytko, Kennelly, Joanisse, Dangerfield, Jensen, and Reese-Hansen ending their time on the ice. That leaves just eight men's teams and six women's teams remaining to battle it out for the championship crowns.
Here's how it all went down:
In Women's Draw 6, at 9:00am, Team Gushulak took Team Wark 7-5 in a spirited match-up. Team MacMillan defeated Team Arsenault 6-5 in a game which saw the lead change multiple times, and Team Brown topped Team Cowan 7-5 in a competitive effort.
Also at 9:00am, Men's Draw 6 saw Team Geall give Team Kennelly a 9-4 roughhousing, and Team Joanisse delivered Team Kopytko an 18-0 coup de grâce. With these defeats, both Team Kennelly and Team Kopytko had lost three straight and were eliminated from play. Team Kopytko was BC's only U21 entry in the 2022 Championship, and it was rewarding to see the next generation of BC curlers pursue the next stage of their long-term curler development.
In Men's Draw 7, at 2:00pm, Team Dangerfield defeated Team Joanisse 6-4, and Team Nobert blew out Team Geall in a 9-2 effort which ended with physically distanced "handshakes" after six ends of play. These losses sent both Team Joanisse and Team Geall packing, ending their bids for the purple hearts.
On the other sheets, Team Cotter took Team Robillard 8-4 despite a rousing defense, Team Cseke continued their amazing run with an 8-2 victory over Team Richard, and Team Tardi dispatched Team de Jong 8-6,
At 7:00pm, Women's Draw 8 saw Team Cowan send Team Jensen home with a 9-3 drubbing, Team Gushulak dispatched Team Brown in a come-from-behind 6-4 victory, and Team Wark ended Team Reese-Hansen's championship dreams with a 9-4 win.
Likewise, Men's Draw 8, also at 7:00pm, saw another departure. The climax of the Team Dangerfield-Team de Jong struggle saw de Jong steal 2 in the 10th end, putting an end to the 2022 BC Men's Championship for the men from the Victoria Curling Club. On the other sheet, Team Cotter commanded their match-up with Team Tardi, taking the 7-3 win due to an uncharacteristic steal of 4 early in the game when Tyler Tardi racked on a guard.
Games continue today with Draws 9, 10, and 11 at 9:00am, 2:00pm, and 7:00pm. Catch all the action live, on Curl BC's YouTube Channel, with commentary by Melissa Soligo and John Cullen.
And don't miss out on the Kamloops Curling Club's 2022 BC Scotties and BC Men's raffle, tickets are only $10 each and you can purchase them at https://kamloopscurlingclub.rafflenexus.com. Only 500 tickets will be sold. There are $500, $250, and $125 prizes – enter early, enter often!
Subscribe to our newsletter
Receive the latest news updates, tournaments, programs, services and discounts.