Day 2 of the BC U21 Curling Championships: the battles continue
February 24, 2022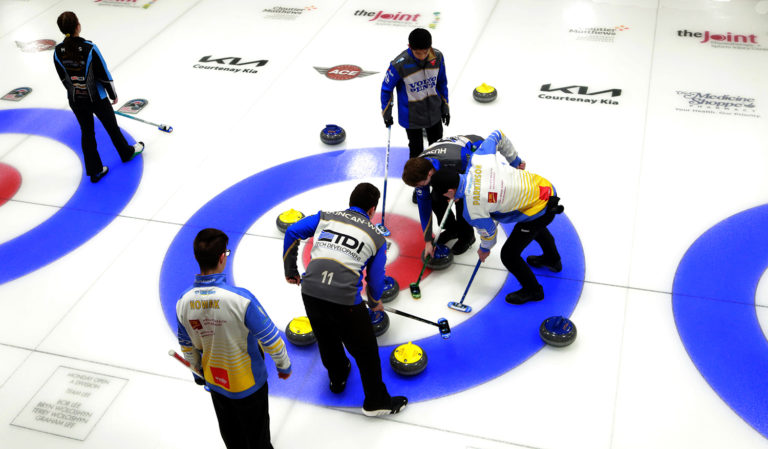 The second day of the BC U21 Curling Championships saw a full slate of games, and a lot of exciting action out on the ice.
Men's draw four started at 9:00 am, and the teams were ready and raring to play: Team Fenton defeated Team Parkinson 7-6 in a closely matched game which saw the score see-saw multiple times; Team Deng defeated Team Kopytko, 9-5; and Team Deane overtook Team Kent in a 9-4 tilt which ended with handshakes after eight.
With no afternoon games, the men had a rest until 7:00pm, and the it was back at it for draw 6, in which Team Deane drubbed Team Fenton 8-2; Team Deng defeated Team Parkinson 7-5 in ten ends; and Team Kopytko defeated Team Kent 7-4.
Women's draw four also started out at 9:00am, with Team Bowles topping Team Buchy 8-3 in nine ends; Team Richards overcoming Team Wilson 7-2, with handshakes in the eighth; and Team Hafeli overcoming Team Wheatcroft with a score of 9-4.
In women's draw five—the afternoon event—Team Brissette dispatched Team Coles-Lyster 6-2; Team Buchy dominated Team Richards in an 8-1 rout which ended after seven; Team Wilson overcame Team Woike 7-4, and Team Bowles racked up an 8-3 win over team Wong.
Women's draw six, at 7:00pm, saw Team Wong dominate Team Bissette in an 11-5 nine-end battle; Team Hafeli shut down Team Woike 8-2 in a game which ended with handshakes in the sixth; and, in a marathon squeaker, Team Coles Lyster defeated Team Wheatcroft 9-7 in an extra end.
Subscribe to our newsletter
Receive the latest news updates, tournaments, programs, services and discounts.