Day 1 of the BC U21 Curling Championships: the competition begins
February 23, 2022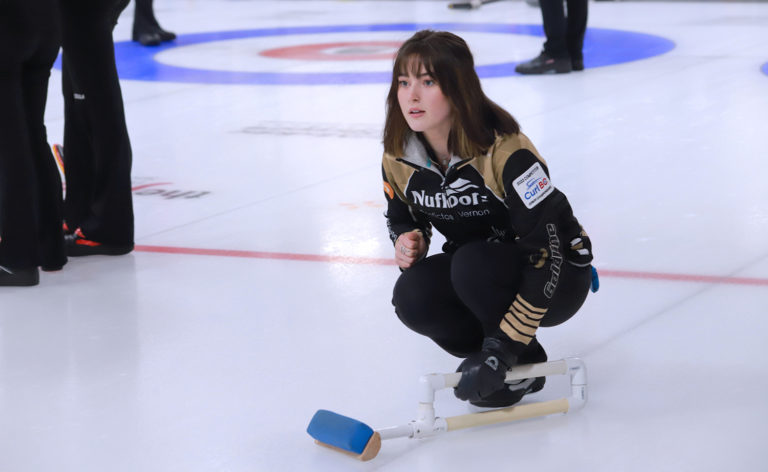 The BC U21 Curling Championships started off with bang today, with some great play and big victories on the ice at the Comox Valley Curling Club.
In men's draw one, Team Deane defeated Team Deng 8-5 in a spirited match which saw the lead flip mid-way through the game's nine ends. Comox's Team Parkinson took an early lead over Team Kopytko and bested them 6-4, despite a lively rally by the boys from Kamloops in the ninth.
In the second draw, Team Fenton edged out Team Kopytko 9-7; Team Kent started out with a solid lead and never let up, topping Team Deng 7-4; and Team Deane dominated Team Parkinson 8-2.
In draw three, the evening game, Team Kent scored a lopsided 10-2 win over Team Fenton.
On the women's side, the first draw saw a number of great games. Team Buchy easily dispatched Team Woike in a 10-5 victory; Team Wheatcroft triumphed over Team Brissette 9-5 in a game that was well-matched throughout (save for a five-point Wheatcroft fifth end); Team Wong dispatched Team Coles-Lyster 5-3; and Team Wilson edged out Team Bowles in a 10-9 squeaker which went all the way to the eleventh.
In draw two, Team Bowles defeated Team Richards in lively 10-8 contest; Team Hafeli edged out Team Wong 8-5 in ten ends, and Team Buchy gave Team Coles-Lyster an 11-4 drubbing.
In evening action, draw three saw a triplet of games, with an 8-1 Team Hafeli blowout over Team Brissette;  a hard-fought 7-5 Team Richards victory over Team Woike; and  an 8-4 cruise to the winner's circle for Team Wilson in their contest with Team Wheatcroft.
Subscribe to our newsletter
Receive the latest news updates, tournaments, programs, services and discounts.