Day 1 of BC Curling Championships shows spirited play—and a few surprises
January 05, 2022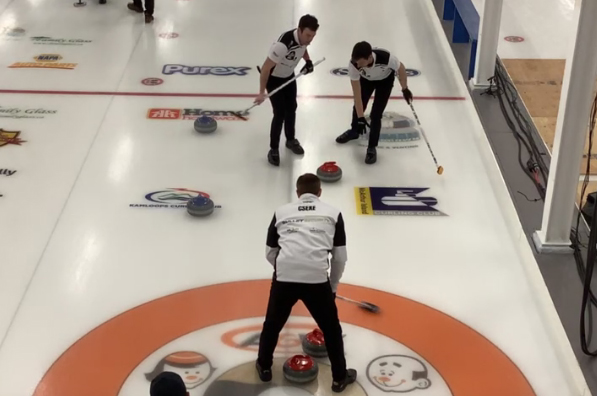 Day one of the 2022 Scotties BC Women's Curling Championship, Presented by Best Western, and the 2022 BC Men's Curling Championship saw some spirited play and close scores in Kamloops yesterday. There were tough battles for perennial favourites, and thrilling victories for some of the underdogs.
In men's draw one, Team Geall defeated Team de Jong in a tightly-contested game which went a tension-filled 11 ends. Team Cseke dominated 10-3 in a big win over Team Kopytko, starting off strong and never taking their foot off the gas.
The score see-sawed in the Team Richard vs. Team Kennelly match-up, with Richard Finally gaining the upper hand, 8-6. And Team Joanisse let an early 5-0 lead slip away in closely-contested battle with Team Dangerfield, with Joanisse finally pulling back out ahead to win 10-7.
In the second draw, Team Geall kept Team Tardi's feet to the fire throughout, including steals in the 8th and 9th. Finally, Tardi made a short runback for a 7-6 win in the 10th.
One of the most hard-fought games of the day—and the biggest upset—saw 9-time BC champions Team Cotter and Team Cseke rumble in a nail-biter which was anybody's game right up to the end, when Cseke pulled out a 9-8 victory.
In the Team Nobert-Team Richard tilt, Richard started off strong, kept the heat on, and ran the score up in a 7-1 thumping over the #4 seed Nobert.
Team Robillard racked up an insurmountable lead in the first two ends of their game against Team Joanisse, eventually triumphing 10-4.
Today, the excitement continues as the women take to the ice in Draw 3, starting at 9:00am, with Team Brown vs. Team Jensen, Team Gushulak vs. Team MacMillan, Team Arsenault vs. Team Hansen, and Team Cowan vs. Team Wark.
The men are also back today, starting at 2:00pm with Draw 4, featuring Team Kennelly vs. Team Cotter, Team Dangerfield vs. Team Geall, Team de Jong vs. Team Joanisse, and Team Kopytko vs. Team Nobert.
At 9:00pm, Draw 5 will see the winners of Draws 3 and 4 move on to the next round.
This morning's women's games will be broadcast live on Curl BC' Facebook page, later games will be simulcast live on our Curl BC YouTube channel. Along with the action on the ice, Curl BC's own high-performance director Melissa Soligo – a BC and national Scotties winner as well as an Olympic medalist – will provide commentary along with curler and comedian John Cullen.
Subscribe to our newsletter
Receive the latest news updates, tournaments, programs, services and discounts.