Curling Rocks All Weekend at White Rock's High Tides Bonspiel
November 30, 2021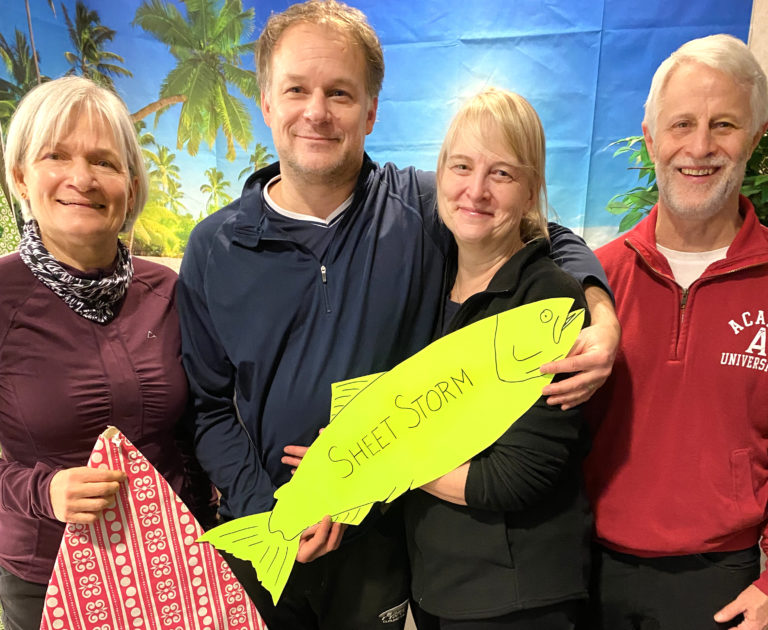 (At Curl BC, we're happy to run member-submitted stories of bonspiels and events. Here's one we received from the Peace Arch Curling Club)
Twenty teams competed this past weekend (November 26-28) at the Peace Arch Curling Club in the High Tides Bonspiel.
"Our format with 16 teams in "the main event" and four teams in the recreational pool allowed all teams to compete and have fun at the appropriate levels," commented John Bogar, chair of the local organizing team. "We were pleased to welcome five teams from outside our curling club including Vancouver, Delta, Chilliwack, Cloverdale and Abbotsford."
The A Event Championship final showcased a family team of long-time White Rock resident and life-long curler Darrell Zbeetnoff. Zbeetnoff teamed up with lead Greg Christofferson and his two adult daughters, Nadia and Barbara, who had legendary junior curling careers at the Peace Arch Curling Club. Both teams battled their way undefeated into the championship final and an extra end was needed by another local team—skipped by Roger Mulligan, along with Fiona Mulligan (second), Kim Kavanaugh (lead) and Mike Kavanaugh (third)—who emerged victorious to claim victory and the $600 top prize.
Well known Surrey teacher, Ross Scott, skipped the team which won the B Event Championship, Sheet Storm.  Scott teamed up with his wife Janice, along with Doug Boyton and Marjorie Mooney to emerge victorious in the Sunday afternoon final. In commenting on his game, Scott and indicated he liked the format of the bonspiel. "The preliminary round-robin structure allows for teams to be properly seeded to ensure more balanced and competitive playoffs in the final groupings." He added, "the bonspiel is a weekend commitment and the firm High Tides schedule allowed us time to plan things around the games."
A team from the Vancouver Curling Club, skipped by Craig Coyne, were seeded in the C Event based on their record in the round robin where they lost to both teams Zbeetnoff and Scott.  Coyne won the C Event and commented on his team's bonspiel experience, "the club was welcoming and friendly and we had a blast," but he chirped smiling, "maybe next time we could have a slightly easier round robin placement?"
Subscribe to our newsletter
Receive the latest news updates, tournaments, programs, services and discounts.