Curl BC's Patti Caldwell elevated to Level 4 Official
September 01, 2022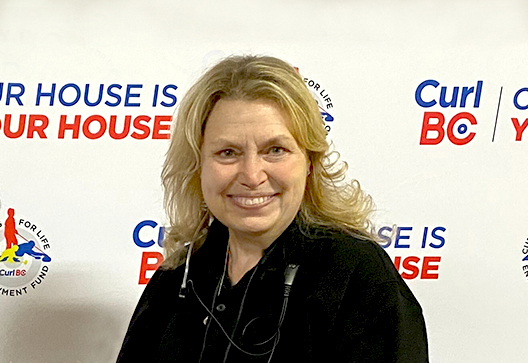 When it comes to exceptional officiating, Level 4 certification is one of the biggest milestones out there. It represents years of training, attention to detail, and a dedication to fairness.
As curling's newest Level Four official, Patti Caldwell clearly loves her work, and cherishes the more than twenty-five years she's spent as an official.
"I was never going to be a competitive curler despite my love for the game," she says. "My mother told me to always give back, so I sat on the board of the BC Ladies Curling Association, and then I got involved in officiating."
Achieving her Level One certification in 1994, Caldwell soon discovered she had a real talent—and affinity—for officiating.
"I love rules, I love learning, and I love teaching," she says, noting the motivations that have served her so well.
Level Two certification followed in 1995, followed by Level Three in 2000. After spending a number of years in California, Caldwell returned to BC in 2008 and has been officiating ever since.
She is quick to point out, however, that she's had a lot of help along the way.
"I've been fortunate to have some amazing mentors, including Dianne Barker, Donna Butler, Sharon Morrison, Marg White, Brett Waldroff, Linda Kirton, and Michele Gower."
"The officiating community is small and to be part of it is simply something to be proud of," she continues. "It is such a joy to meet teams from across our great country and around the world.  You get to know the players and can appreciate their talents, how much they put into their sport and how hard they train so to be part of it is a reward unto itself."
Over the years, Caldwell has twice been recognized as Curl BC Official of the Year, and has officiated at both BC and national championships, as well as Olympic trials in Saskatchewan, world championships in Alberta, and a Curling World Cup in Nebraska. She also served as Curl BC's Officiating Coordinator from 2010 until stepping down earlier this year.
"I have been very fortunate to work with some amazing teams as a game umpire both nationally and internationally," she says, "and even as a chief umpire at three national events. To keep being invited to events is such an honor, and to be involved in a sport that I love gives me so much pleasure.  I enjoy every minute of the events I am invited to and learn from the officiating teams at each event."
It's a testament to all of Caldwell's hard work that her officiating coordinator position has now been split between two people upon her departure, with Henry Wong taking on the training side as Education Officiating Coordinator, and Phil McKenzie handling championships as the Competition Officiating Coordinator.
To Caldwell, officiating is more than just enforcing rules, or making the tough judgement calls. She never forgets that there's a human element to everything she does, and her connection to the curlers themselves is an important part of what drives her.
"When you are officiating a game you can see the talent first hand," she explains. "You celebrate inwardly when they make shots and cry silently when they miss shots.  It is humbling being involved with such amazing athletes and coaches and being present when they achieve their goals is so satisfying. Being able to say to a team 'Congratulations Team BC or Team Canada' is just the best feeling there is."
Of course, Caldwell is not one to sit still. It's a trait which has served her well in the past, and will no doubt continue to in the future.
"Ultimately," she says, "I would love to become a Level 5 official, so my goals are to continue to work hard and continue to learn. Each invite is another opportunity to demonstrate what I've learned, and how to be a success in each role I am offered."
Curl BC is very pleased to congratulate Caldwell on her achievement. Thank you for all you've done for our sport, Patti!
Subscribe to our newsletter
Receive the latest news updates, tournaments, programs, services and discounts.