Curl BC Youth Advisory Committee is Seeking New Applicants
June 02, 2022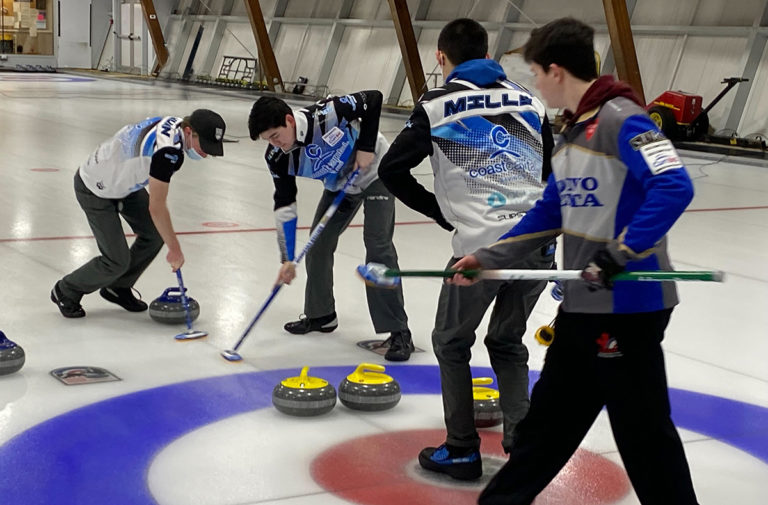 Curl BC Youth Advisory Committee is Seeking New Applicants.
Share your voice to create change and connect with other youth curlers from across BC.
Curlers age 17-29 who are looking for experience volunteering with a provincial sport organization are encouraged to apply!
The deadline to apply is June 30th 2022. 
What is the YAC: The Curl BC Youth Advisory Committee (YAC) is a group of  eight empowered youth who use their lived curling experience within the sport sector to improve the quality of Curl BC programs that target youth development.
Who can apply to join YAC: The Committee is made up of individuals aged of 17 to 29 who are current  members of a Curl BC affiliated club.
What will you do on the YAC: The committee will provide recommendations about services, programs and policies that affect the long term curler development model as it is related to youth in BC. Committee members will consult and report to the staff and competitions committee. They will  provide guidance and recommendations  via four meetings in July, September, Janaury and March of each season either via zoom or in person. members will also have ongoing work plans between the meetings.
What is the time commitment of YAC: Members sign a 1-year term and have the option to continue with the committee for three years. Committee member who join at age 28 or 29 will have the option of serving for 1 or 2 seasons to ensure they are under the age of 30 while serving.
These positions are OPEN for the 2022-23 season. Applications should be submitted via this application form no later than June 30th, 2022.  *Only those successful for the position or an interview will be contacted.
YAC Core Values
Commitment: YAC is committed to involving youth in decision-making that impacts the youth curling experience along the long-term curler development pathway.
Family: YAC is like a family and committed to including all of the voices of youth in our reccomedations with regard to policies, program and services.
Transparency: YAC acknowledges youth are the experts on their lives.  Their perspectives are vital to improving services for youth programming within Curl BC.
Respect: YAC members  are committed to showing respect to all stakeholders by communicating, cooperating and collaborating with a goal of sharing perspectives from all Curl BC zones.
Excellence: We are committed to meeting or exceeding the highest standards at all times.
Integrity: We are committed to preparing for all quarterly meetings and work plan items throughtout the year.
Benefits of Becoming a YAC Member
Being part of the Curl BC Youth Advisory Council provides valuable volunteer experience and leadership development opportunities. In addition to this it provides a tremendous opportunity for young leaders to connect with other leaders in this community.. YAC members are offered training to provide them with the skills they need to succeed with their workplans and  quarterly meetings.
Eligibility Requirements to Apply for YAC
Youth Curlers interested in joining the Youth Advisory Council must:
Be between the ages of 17 and 29.
Be a member of a Curl BC facility in good standing.
Have experience being involved in Curl BC programs for at least 24 months.
Have a passion for improving the long-term curler development pathway and curler experience for children and youth.
Be committed to completing NCCP Safe Sport training upon joining the committee.
Be committed to submitting a valid Criminal record check upon join the committee.
Subscribe to our newsletter
Receive the latest news updates, tournaments, programs, services and discounts.