Curl BC welcomes Bruce Renwick as new Competitions Manager
June 20, 2023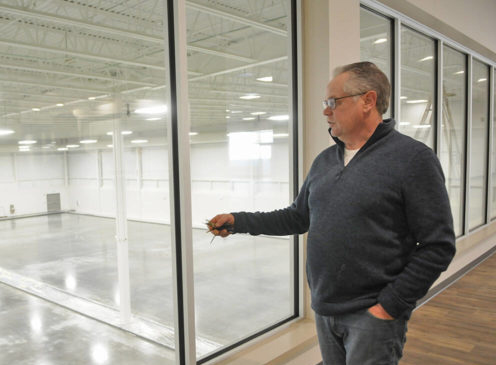 Curl BC is happy to announce that Bruce Renwick has been hired as the organization's
new Competitions Manager.
With 27 years' experience as manager of the Chilliwack Curling Club—and hosting
special curling events—Renwick is particularly suited to successfully run Curl BC's
provincial championship system.
"During my years at Chilliwack," he says, "we were able to host a Continental Cup,
Canadian Seniors, Police and Firefighters Championships, BC Men's, Mixed (twice),
High Schools, Firefighters, Police and Juniors as well as numerous regional playdowns
with many of them being televised. I was able to gather a little knowledge at each of
these events and I hope to help ensure that the future competitions get better with each
event."
An inductee to the Chilliwack Sports Hall of Fame, Renwick has been a curler since the
age of 12.
"When the 5 am bike rides to hockeypractice, with my gear over my shoulder, became
tiring," he recalls, "I decided to follow my parents' lead and start to curl."
As a competitor, Renwick has played in the BC High Schools, the BC Mixed, and the BC
Men's championships.
As a curling professional, he took the Chilliwack Curling Club from its 1950s-vintage
building to a brand-new state-of-the-art eight-sheet club, skillfully navigating through the
city's building process.
"The Chilliwack Curling Club has always had a wonderful relationship with our mayors,
city councils and city staff," Renwick says. "I was able to convince the consulting firm
the city had hired for a 10-year strategic plan that it was time the City built us a new
facility.
He and his wife Cindy live on an eight-acre hobby farm in Chilliwack, where they raise
sheep and hens during their time off. Along with his position at the curling club, he also
ran a successful irrigation business which he recently sold.
Renwick will manage Curl BC's competitions from Chilliwack and oversee the hiring of
individual event managers for each of the BC championships, freeing up time to
concentrate on planning and administration (anyone interested in becoming an event
manager for a BC championship should contact him at brenwick@curlbc.ca).
Speaking with Renwick, it's clear that he's ready to hit the ground running when it comes
to Curl BC's competitions.
"I feel that competitive curling is due to change in Canada with the addition of David
Murdoch as head of high performance with Curling Canada," Renwick says. "My plans
include reaching out to the current competitive curlers and listen to their concerns about
what may be hindering teams from entering playdowns, and what changes can be made to
make it more attractive to enter competitions.
"My hope is to build back the numbers of entries in the playdowns to ensure that it's
attractive to clubs that host the events. I look forward to working with the staff at Curl
BC, and the competitive curlers in the province to continue to build the game of Curling
into the future."
Subscribe to our newsletter
Receive the latest news updates, tournaments, programs, services and discounts.