Curl BC is saddened by the loss of Kent "Cookie" Gilchrist, journalist and good friend to curling
July 15, 2021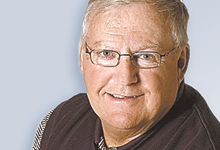 Kent "Cookie" Gilchrist, who served as a Vancouver Province sportswriter for 37 years, has died at the age of 72.
A native of Souris, Manitoba, Gilchrist started as a reporter with The Brandon Sun fresh out of high school. From there he went on to The Regina Leader-Post, The Winnipeg Free Press, and The Vancouver Sun before settling in at the Province sports desk for almost four decades.
During his time as a sportswriter, he covered the Olympics, Stanley Cup finals, the Kentucky Derby, and many Grey Cups. He was inducted into the Canadian Football Hall of Fame in 2005.
Although his main beat was football, Gilchrist was a long-time fan of the roaring game and consistently filed as much curling coverage as his editors would allow.
"The trouble with curling," he wrote in a 1973 Vancouver Sun article, "is it's a slippery game. You never know what's going to happen."
In all, Gilchrist covered 12 Briers, multiple women's curling championships, and countless local contests. He had a regular column in The Province, Curling Notebook, and was the recipient of a Curl BC Friendship Award in 2011.
Although he retired from the Province in 2011, he never stopped writing, and continued to pen freelance golf and travel articles.
Gilchrist died after a short illness. He is survived by his wife Lesley, son Riley, daughter Rebecca, and four grandchildren.
Subscribe to our newsletter
Receive the latest news updates, tournaments, programs, services and discounts.