Curl BC announces two expanded part-time positions
August 25, 2022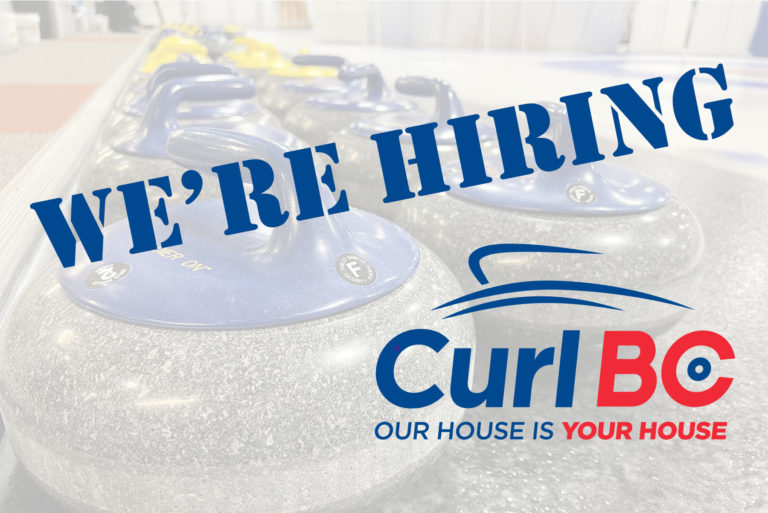 Curl BC is excited to announce two enhanced part-time positions which combine organizational skills and curling knowledge. These positions will be instrumental in both growing our sport and providing a meaningful experience on the ice for a new generation of curlers—if you're interested and have the right qualifications, we encourage you to apply!
Curl BC Social Media Assistant (part-time)
We're looking for a part-time (flexible schedule, approximately 1-2 hours per day) social media assistant to handle the organization's interactions with the public through social media using a fun and consistent voice.
The successful candidate will have experience with social media management, schedule creation and planning, be able to devise and launch content strategies, create graphics, make posts across a number of social media platforms, and collect engagement data.
While Curl BC has a core audience of dedicated curlers to retain and keep engaged, an important part of the position will be creating new interest from outside the curling community, in the form both new fans and individuals who will be interested in giving the sport a try.
Specific responsibilities:
Writing display copy for social media (strong writing proficiency required)
Choosing and editing photographs and videos, and creating graphics, for social media
Developing posts to increase community and new viewer engagement
Build on a brand persona through the brand's online channels
Respond to social media queries through social networks
Planning, initiating, and executing organic social media strategies and content
Managing the execution of social media relations programs for all platforms
Social media support for Curl BC member clubs, advertising fundraisers, bonspiels, etc.
Performing other duties and tasks as assigned.
Potential candidates should have at least 2 years of experience in social media, be detail-oriented, able to display both humour and good judgement in their work, and have a good knowledge of British Columbia curling (or even be a BC curler themselves).
Curl BC Interim Provincial Coach (limited-term contract position)
Job Description
Reporting to the High Performance Director, the Interim Provincial Coach will be responsible for the planning, training, development and delivery of high performance programs across the province of British Columbia.
Major Areas of Responsibility
high performance programming, including LTAD stages (T2T, T2C, T2W)
attending, on weekends, adult and junior cashspiel events (working directly with program teams and coaches); provincial events (Men's Women's, U21 and U18); team and/or individual practices (depending on location); and working with high performance teams at the Richmond Curling Club
assisting the High Performance Director with program management (including Monday.com forms), budget, and reporting requirements
assisting with provincial team preparation
attending provincial and potentially national events as jointly agreed to by the High Performance Director and the CEO
under the direction of the HP Director, communicating with teams, coaches, and IST staff
work with the Curl staff to maintain athlete and coach listings and databases, obtaining contact listings (eg. carding and ranking lists), and ensuring that website information is up-to-date
organizing camps, workshops, and webinars as directed by the HP Director
managing program coach consultants and manage ranking lists
Acting as a liaison to the Curl BC Competitions Committee, office staff, the CWG manager and teams, and viaSport and other funding partners.
ensuring that confidential information concerning athletes, Curl BC, fellow coaches, clubs etc. is treated in the strictest of confidence
The Interim Provincial Coach will be a self-starter and detail-oriented. They will also be a strong communicator, team-player and problem-solver. Some travel within the province will be required.
The Interim Provincial Coach will require approval of the CEO to enter into coaching relationships with any curlers or teams during the duration of this contract. Any remuneration for such coaching will be paid directly to the coach.  If the successfully applicant is already coaching a team, concessions will be made to ensure that the Coach does not work with any teams in the same category so as to eliminate conflicts.
Qualifications
Competition Development Coach Certified in curling (minimum)
Type of Position and Time Commitment
This is a limited-term contract position for the 2022-23 curling season, paid on an hourly basis. An average week will consist of approximately 25 hours in the lead up to the 2023 BC Championships being held in December and January. The number of hours per week required after January may be reduced depending on high performance program teams' training requirements.
Remuneration
$35/hour for a Certified Competition Development Coach
$40/hour for a Level 4 Certified Coach
To apply for either position, please send a cover letter and résumé to sbraley@curlbc.ca.
The deadline for applications is August 31st, 2022.
.
Subscribe to our newsletter
Receive the latest news updates, tournaments, programs, services and discounts.