Curl BC Announces 2022-23 Award Winners
June 11, 2023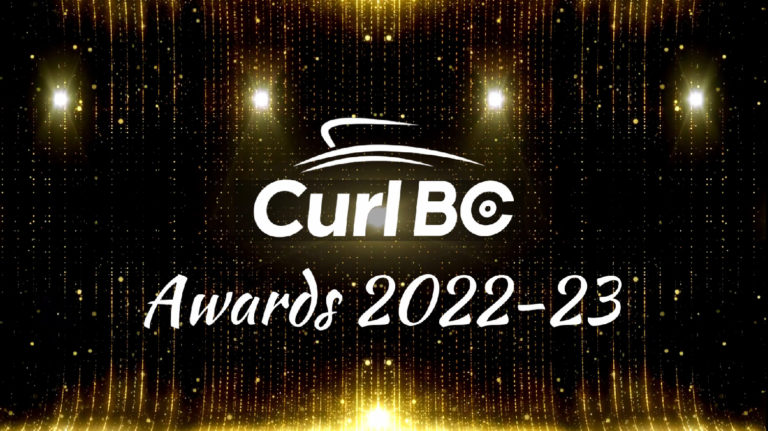 Formally announced at the organization's annual general meeting on June 8th, the Curl BC's awards celebrate and honour those who have made outstanding contributions to the sport of curling in British Columbia.
Curl BC is now proud to announce its 2022-23 award winners:
Annual Service Awards
Sponsor of the Year: Mountainview Safety Services Ltd.
Mountainview Safety Services has contributed significant financial support to all five of the Dawson Creek Curling Club's bonspiels, and has supported local junior travelling and practice teams; a U15 Provincial team, a U18 boys Provincial team, and junior team entries, fees and equipment for them to play in a number of local leagues and local/regional bonspiels. They're also a Tier 1 sponsor of Team of Team Gauthier, British Columbia's representative in the 2023 Brier.
Ron Houston Administrator of the Year: Bev Shaw
Bev is an exceptional Club manager/administrator at the Qualicum Curling Centre, and a key member of the fundraising committee. Her support and ability to interface with the club's entire leadership team is an enduring asset to the club's performance. She has also provided unwavering support and guidance to the board chair.
Curling Centre Volunteer of the Year: Jerry Sanders
Jerry exemplifies how to make a club better through volunteering.  His selfless contributions of time and effort are provided on a weekly and often a daily basis.   Whenever a volunteer is needed, Jerry is always the first with his hand up.
Curling Centre of the Year: Williams Lake Curling Club
The Williams Lake Curling Club organized great events, and fundraised extensively for its community. Perhaps its greatest achievement, however, is the huge strides it's made toward accessibility, proving that such work is possible in any community. Later this month, Rick Hansen will be joining them to dedicate their new elevator.
Long & Exceptional Service Awards
Elsie Mackenzie Youth & Junior Curling Program Volunteer of the Year: Kate and Darryl Horne
Kate and Darryl have been coaching juniors in BC for over 10 years and were integral in reestablishing the Thompson-Okanagan InterCity Junior Curling league following COVID. Darryl is a Curl BC High Performance Consultant and Coach Developer, Rockslide Instructor and National & International Coach, while Kate is a Curl BC Coach Developer and Rockslide Instructor.
Judie Roberts Friendship Award: Brenda Nordin & Linda Bolton
Brenda and Linda co-chaired the 2023 national Scotties Tournament of Hearts in Kamloops, and were instrumental in marketing & communications, organizational leadership, program development, and enriching the fabric of curling in BC
Pat Kennedy Long Service Award: Pam Shemilt
Pam's volunteer service extended to the district and provincial level as Secretary/Treasurer for Region 8 of the BC Ladies Curling Association for ten years and two years as Region 8 Convener to the BCLCA. She has been a long-term supporter of the Victoria Curling Club, as a league and bonspiel sponsor over the past 30 years. Through her business, Island Blue Print, she has provided financial sponsorship to our zone and regional winning teams (junior men & women, Ladies, Mens and teams representing the University of Victoria and Camosun College) as they advanced to the BC and/or Canadian Curling Championships.
Janette Robbins Award: Nando Salviulo
Nando is a tireless promoter of curling in the Kootenays, and has created a website—buzzysbuzzword— which connects and informs curlers. He's also a firm believer in and supporter of grass roots curling and can always be counted on to lead by example.
Performance Awards
Wally M'Lot Official of the Year: Henry Wong
Henry has been an exceptional mentor to his fellow officials for many, many years. This past season, he served as Chief Umpire for the BC U18 and the BC Scotties and Men's championships,  as well as at the 2023 Anita Cochrane Memorial. He was also instrumental in developing the new coach interaction rules.
Anita Cochrane Coach of the Year Award: Wendy Cseke
Wendy is a leader by example, using her fundamental skills along with learned tactics and strategy. As a lifelong curler, she continues to spend time studying and completing courses and attending webinars to increase her knowledge and effectiveness, as well as the benefit to her teams. She connects with her players by keeping practices fun, fresh and challenging, as well as stressing that trying to reach performance goals, not outcome goals are important. Wendy knows how to bring out the best in everyone, understanding that every athlete is different, and each has different ways of receiving coaching information. Besides being strongly committed to her teams, the sport and everyone's success, she has always looked out for the best interest of the individual athletes and their well-being.
Adaptive Athlete/Team of the Year: Rick Robinson
Rick's been a tireless advocate for wheelchair curling and a staunch supporter of Curl BC's Try Wheelchair Curling program; he's represented BC at the Canadian Wheelchair Championships, has been invited to participate at the 55+ Games; and is the 2022-23 BC Wheelchair Curling Champion. He's also known for his selfless assistance to other wheelchair curlers, lifting them up with help and advice.
U21 Team of the Year Award: Team Hafeli
Over the past season, Team Hafeli was ranked 5th in Canada, won the 2023 BC U18 championship, took first place in the Refresh Carpet Junior Tour Event, and still had time to volunteer at their club, in their community, and at the 2023 Scotties.
Adult Team of the Year Award: Team Grandy
During the 2022-23 season, Team Grandy was BC Scotties Champion, 5th in CTRA standings, and 9th overall in World Standings. They also achieved the highest standing for BC at the national Scotties Tournament of Hearts in ten years, 5th place.
50+ Team of the Year Award: Team Penny Shantz
Team Shantz won Canadian Masters Championships in both 2022 and 2023. They model excellence through their love of the game, supporting one another on and off the ice, and instilling the spirit of friendship and sportsmanship to those around them.
Special Honours
Life Membership: Dale Gregory
Dale has been curling since he was in high school, and has been one of our sport's hardest-working and most steadfast volunteers. To celebrate a lifetime of service and friendship—including six years on the Curl BC Board—Curl BC is thrilled to confer Life Membership upon Dale.
Curl BC Awards 2022-23 Video
Want to watch or share the video? ➡ CLICK HERE
Subscribe to our newsletter
Receive the latest news updates, tournaments, programs, services and discounts.