Curl BC Announces 2022 Award Winners
August 25, 2022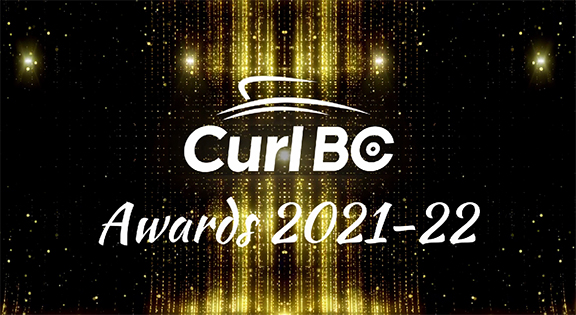 After an abbreviated outing last year, Curl BC's slate of awards have come roaring back with a full roster of worthy honorees.
Formally announced at the organization's annual general meeting on June 16th, the awards celebrate and honour those who have made outstanding contributions to the sport of curling in British Columbia.
Curl BC is now proud to announce its 2021-22 award winners:
Annual Service Awards
Curling Centre of the Year: Kamloops Curling Club
The Kamloops Curling Club showed extreme dedication to the sport by hosting the BC Scotties and BC Men's provincial championships, as well as the U21 Special World's Qualifier over the past year. During the COVID-19 cancelled season in 2020-21, the club served the local community by acting as a shelter to support the homeless and displaced during the height of the pandemic. Additionally, the club began a new stick curling league, provided countless volunteers for BC curling events, and has created a successful junior program that has resulted in many BC Junior, women's, men's and mixed BC Champions. In all, the Kamloops Curling Club has been supporting its community for 73 years.
Curling Centre Volunteer of the Year: Deanna Larson (Dawson Creek Curling Club)
Deanna Larson has served as the president of the Dawson Creek Curling Club since 2019, Larson has been an integral part of the organization and proven herself to be an exceptional leader. Well-organized, committed, and purposeful, she not only oversaw day-to-day operation matters but piloted the complicated lease renewal negotiations with the City of Dawson Creek. A proponent of continuous improvement and a valuable example to others, Larson has received extensive training in Curl BC and Curling Canada's Business of Curling programs, and has also served the Dawson Creek Curling club as its vice president, secretary, and director in the past.
Ron Houston Administrator of the Year: Mike Williams (Trail Curling Club)
A talented ice technician and a true team player with a calm, sensible, get-it-done approach, Mike was instrumental in the creation of the Torchlight Tour event in Trail. A friend to other clubs, he provided excellent mentorship at the Kimberley Curling Club during the 2022 Mixed Championship, not only creating a great playing surface during the event but leaving a legacy of new knowledge and skills for the club moving forward. Mike also guided the new Trail ice tech through a championship event, providing his instruction and valuable experience before he retires.
Sponsor of the Year: Save-On Foods (Kamloops, BC)
Neil Atkins and his Save-On Foods team has always gone above and beyond for the Kamloops curling community. From creating amazing athlete welcome bags to serving serve officials and athletes snacks, they were always ready to help out and more than generous with their time and patience during the BC Scotties and BC Men's provincial championships. Despite these events being postponed due to COVID-19, Save-On Foods stayed on board and remained helpful and supportive. When it comes to curling in Kamloops, it's always possible to count on them, their great staff, and great leadership.
Long & Exceptional Service Awards
Elsie Mackenzie Youth & Junior Curling Program Volunteer of the Year: Darren Kent (Port Moody Curling Club)
Darren has passionately dedicated almost an entire decade to junior curling, first at the Coquitlam Curling Club, and now at the Port Moody Curling Club, where he has led the junior program for the past six years. He has the skill to give the kids confidence and the right feedback for improvement on skills and performance. He has mentored and encouraged the older junior members to coach the Little Rocks on Saturdays, and he served as the webmaster for the Optimist Junior Interclub Curling. Darren is very generous with his time, devoting countless of volunteer hours. He really cares about juniors and youth curling.
Judie Roberts Friendship Award: Keltie Worrall (Vancouver Curling Club)
Keltie's work at the Vancouver Curling Club has been fundamental to ensuring the club had the financial resources and structure to operate on a post-pandemic basis, allowing the flexibility to focus on growing membership and streamlining processes. Keltie calculated the Federal COVID wage subsidies (the CEWS program) for the club, which was a key revenue source for the club during a period where there was no general manager or staff, and little cash inflow. With her extensive tax background, she also provided oversight and background to help resolve payroll and commodity tax issues as they arose.
Pat Kennedy Long Service Award: Diane Underhill (Creston Curling Club)
A hard-working and motived member of the Creston Curling Club, Diane has managed COVID requirements and communicated safety protocols to all members, handled registration, league and lounge requirements, and has taken care of communications—both within the club and with building management—as club secretary. Diane is always willing to lend a hand to other club members, and takes a lead role in helping organize events.
Janette Robbins Award: Penny Shantz (Parksville Curling Club)
Penny has freely and generously shared her passion for the game with many teams, individuals and organizations over her 50 year curling career! She has earned 10 provincial championship titles as well as an Olympic gold medal, all-star honours in mixed and ladies national championships and top-three finishes in multiple national competitions. She has served as a coach for multiple provincial teams, and as a co-chair for the 2012, 2013 and 2018 BC Men's provincial championships in Parksville. She's also served as the Director of Ceremonies for the Canadian Juniors in 2002, as well as the Director of Banquets and Ceremonies for the World Juniors in 2002. Penny often spends time with new curlers to help with technique or to connect with teams,and is a great ambassador for the sport and ideals of curling.
Performance Awards
Wally M'Lot Official of the Year: Henry Wong (Royal City Curling Club)
Henry has not only been a wonderful chief umpire for Curl BC on the BCJCT and during various BC Championships, but he is also an outside-the-box thinker who continues to be of service to Curl BC over many years of dedication to the sport.
Anita Cochrane Coach of the Year Award: Fuji Miki (Royal City Curling Club)
The patriarch of a BC curling dynasty, Fuji has coached scores of young curlers, and taught all levels of curling from novice to national level athletes. Recently, he has coached the following championship youth teams: 2022 U18 BC Junior Men's Champions, the 2022 U21 BC Junior Men's runner-up (Team BC#2 at the Canadian Championship), and the 2020 BC Winter Games Gold Medal winners.
Adaptive Athlete/Team of the Year: Ina Forrest (Vernon Curling Club)
Ina has reached the podium in all three of her Paralympic Games appearances so far, winning gold in 2010 and 2014, as well as a bronze medal in 2018. She began curling in 2004, and—a quick learner—was named to the Canadian national team in 2006, and won the gold medal at the 2009 World Wheelchair Curling Championships. One of the world's most decorated wheelchair curlers, Ina curls out of the Vernon Curling Club and is a member of the Canadian Curling hall of fame.
U21 Team of the Year Award: Team Connor Deane (Royal City Curling Club)
Team Deane were the winners in the fall of the 2021 BC U21 Special World Qualifier, they also went on to win the 2022 U21 BC Championship by going undefeated in Comox. In both cases the team represented BC at the national level. The team's members play in multiple disciplines of the game (mixed, mixed doubles). Tireless advocates for the game wherever they travel, Team Deane works hard on and off the ice.
Adult Team of the Year Award: Team Paul Cseke (Victoria Curling Club)
Team Cseke has had an incredible year, culminating in a silver medal at the 2022 BC Men's Championship. They've exhibited intense off-season training in all areas, especially in physical conditioning, and given back to their community with extensive volunteering during the COVID-19 pandemic.
50+ Team of the Year Award: Team Mary-Anne Arsenault (Kelowna Curling Club)
Team Arsenault has seen a year of impressive play, which saw them become 2021 BC Senior Champions, 2021 national silver medallists, and 2022 BC Seniors runners-up. They have a proven ability to perform both strategically and technically at the provincial and national levels, and display strong team dynamics and communication.
Curl BC heartily congratulates all its honourees, and thanks everyone who took time to make nominations.
Subscribe to our newsletter
Receive the latest news updates, tournaments, programs, services and discounts.