Curl BC announces 2021 awards
April 28, 2021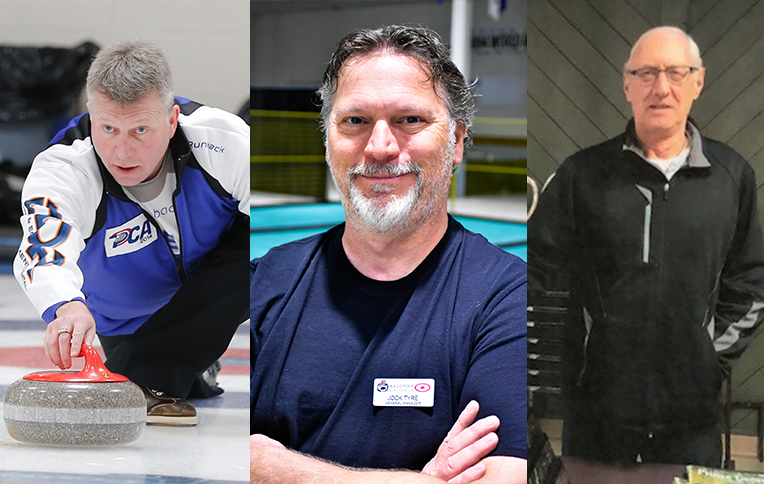 The Curl BC Awards have been decided for 2020-21 – and three winners have emerged.
Curl BC Awards Committee Chair Dale Gregory said: "Curling club managers and volunteers worked incredibly hard during this truly unprecedented season – and it was important that we recognized their work.
"While we have only three winners today, we want to thank every single person who helped their club this year, especially those people who put in extra hours to deal with the myriad ways that Covid-19 affected the sport."
Due to the challenges of the past season, Curl BC did not open its full slate of award nominations. No athlete awards were considered.
The three inspirational winners being named today include two managers and a volunteer ice technician:
Jeff Ginter of Dawson Creek Curling Club – for the Ron Houston Administrator of the Year
Jock Tyre of Kelowna Curling Club – for the Judie Roberts Friendship Award; and
Jim Woodruff of Vanderhoof Curling Club – for the Volunteer of the Year
Jeff Ginter, who was at the helm of an 8-sheet curling facility throughout the 2020-21 season, was nominated by his club's president, Deanna Larson.
Ginter is not only the General Manager of the club, but also a very skilled head ice technician. He has maintained this dual role at the club, working countless hours, for over five years. In addition to these paid roles, Ginter also wears many other hats at the club, depending on what is needed for its success. One great example of this is how he acts as the liaison with the City of Dawson Creek, promoting the club and its achievements at council meetings.
This year brought extra challenges for Ginter but he rose above it all. With the onset of Covid-19, Ginter worked with his board of directors to ensure the safe return to sport in a variety of changing circumstances.
Larson said: "When it comes to the sport of curling, Jeff pours himself into grassroots initiatives including elementary programs and learn-to-curl programs. He is welcoming to newcomers and a highly motivating and encouraging instructor focused on skill development and love of the game."
Ginter said: "Being chosen for Curl BC's Ron Houston Administrator of the Year Award is surprising and humbling; to even be nominated is both overwhelming and very much appreciated. Thank you. The sport of curling is truly special to me. It's literally built me a family, and now a career, and has charted my life's path through thousands of cherished friendships along the way."
"No one person can manage a successful curling club alone, so I share this award with my wife and children, and my Dawson Creek "curling family" – our Board of Directors and staff, awesome volunteers, hundreds of curlers and our numerous community partners."
Jock Tyre, of Kelowna Curling Club, was also at the helm of a large curling club – the country's biggest – throughout this challenging season.
He has been named the Judie Roberts Friendship Award winner because of his unfailing support for the sport that has made him a friend to all curlers.
Kelowna was due to host the 2020 World Mixed Doubles and Senior Curling Championships and the 2021 Tim Hortons Brier – but when Covid-19 hit the first event was cancelled and the latter event was shifted to a Calgary hub city event.
Despite the setbacks Tyre worked hard to make the 2020-21 season a success for Kelowna Curling Club.
When many other curling clubs closed their doors or shortened their season when Covid-19 hit, Tyre and his team adjusted and adapted. The protocols they put in place and the new approaches they implemented kept the club open and allowed the curlers in the community to stay active and stay engaged.
His nominator Tracey Cochrane said: "Jock truly cares about the curling club, curlers of any age and all of the people around him. This last year has been very hard for everyone but to be able to fight and work so hard to keep the curling club open and viable in these tough circumstances should be commended. He is a great person who gives so much back. He is a hero in our community and to the curling community as a whole."
Tyre said: "This is quite the honour. I worked with Judie on a committee a number of years ago and it is a privilege to receive an award named after her."
The third winner of a 2021 Curl BC Award was Jim Woodruff, from Vanderhoof Curling Club.
The award recognizes his outstanding contribution to his curling club.
Woodruff has been the volunteer head ice maker and on the board of directors of the Vanderhoof Curling Club for many years. Throughout that time he has been meticulous about ensuring the ice has been in good shape and equally meticulous about ensuring the club doesn't waste money on energy costs.
His nominator Robert Byron said that it has been in 2020-21 when Woodruff has "really shined".
He was instrumental in ensuring Covid-19 safety protocols were established. Then when adult curling was paused in December 2020 Woodruff ensured that provisions were in place to save the ice until restrictions could be lifted. When it was announced in January that those restrictions would not be lifted, he immediately set to work ensuring the rocks got put away and the plant got shut down.
Byron said: "I cannot think of a better person to get this award. Jim has done this day in and day out for the last 20+ years. I am very thankful that we do have Jim here at our club, I couldn't ask for a better ice maker. Jim goes above and beyond and does what's best for the future of the Vanderhoof Curling Club."
The awards committee also wanted to give a special mention to all the BC-based officiating staff and ice technicians who worked with Curling Canada to help make the Calgary curling bubble – where the Scotties, Brier and men's and women's world championships have been taking place this year – possible.
"We have such skilled officials and ice technicians in BC and we are proud of the work they did in Calgary," said Gregory.
For more information about curling in BC visit www.curlbc.ca.
Subscribe to our newsletter
Receive the latest news updates, tournaments, programs, services and discounts.