Connect Hearing BC Senior Curling Championships wraps up with hard-fought victories, Ontario-bound champions
October 25, 2021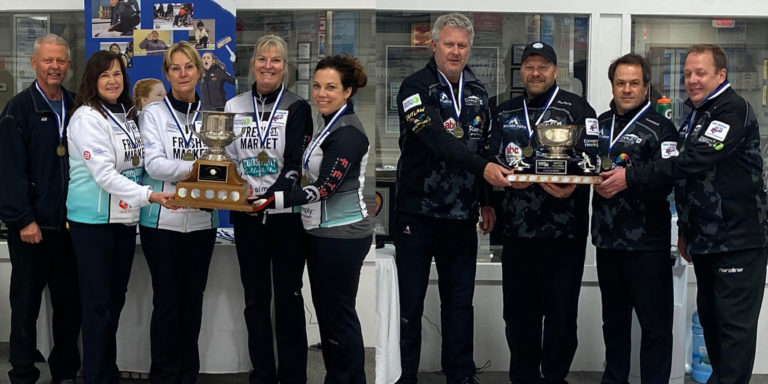 Congratulations to Team Mary-Anne Arsenault and Team Tom Buchy, who won the 2021 Connect Hearing BC Senior Curling Championships this weekend at the Abbotsford Curling Club.
Beginning last Wednesday, the championship's preliminary round featured nine draws and a field of 27 teams playing in 56 separate games. A qualifying round followed, with the remaining nine men's teams and six women's teams battling it out in three draws. It was fantastic to see at all 8 Curl BC zones represented in the event.
A page playoff taking place over Saturday night and Sunday morning then saw hard-fought contests between Teams Arsenault, Lisa Deputan, Janet Klebe and Donna Mychaluk on the women's side. Squaring off in the men's page was Teams Tom Buchy, Mike Wood, Wes Craig and Craig Lepine.
When the dust had settled, Sunday's high-powered championship final was revealed to be a match-up between Teams Buchy and Lepine for the men's crown, and Teams Arsenault and Mychaluk for the women's.
The men's final saw Team Buchy take an early lead over Team Lepine, leading to a final score of 9-3 and handshakes after 7 ends. In the women's final, a low-scoring first half broke open midway through, resulting in handshakes after the sixth end and an 8-2 decision for team Arsenault.
The Team Arsenault victory is especially notable for the team's third, Penny Shantz, who notches her fifth BC Senior Women's Championship victory. And congratulations are due to Darren Will of Team Buchy for winning his first championship heart.
With such a busy week and complicated schedule, the success of the event is a testament to the organizing committee, led by Debi Sands, and Abbotsford Curling Club manager Kent Bird, who also doubled as head ice technician. He and his team treated the athletes to consistent curl and speed throughout the week.
The event also saw some well-deserved awards: Chilliwack's Kerri Miller and Parkville's Lesley Shearer were co-recipients of the Lottie Hill Sportsmanship Award, and Royal City's Brian Miki won the Men's Sportsmanship Award.
Now that they are BC champs, Teams Arsenault and Buchy will be representing the province—with a very real chance to win—Curling Canada's Everest Senior National Championships this December, in Sault Sainte Marie, Ontario.
Subscribe to our newsletter
Receive the latest news updates, tournaments, programs, services and discounts.