Congratulations to BC Junior Tour champions
November 12, 2019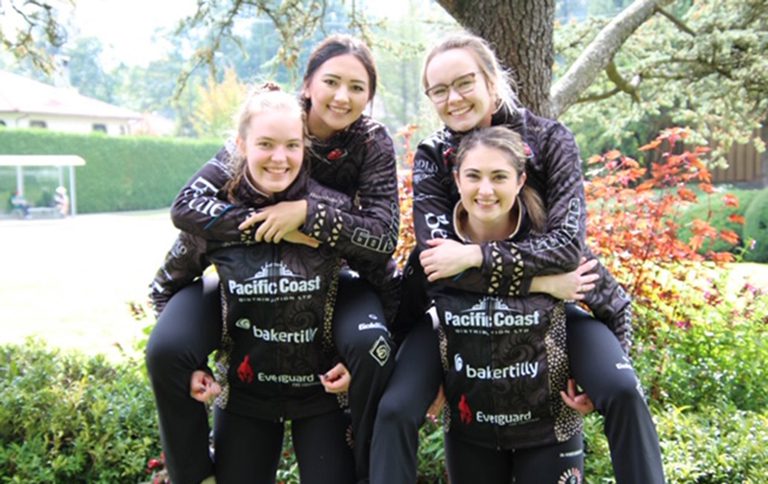 The rocks have all been thrown and now the BC Junior Curling Tour champions are known.
The final event was the Esquimalt Optimists' Junior Cashspiel at Esquimalt Curling Club.
The junior women's race was tight. Before any games were played Team Richards (228.250) was looking to catch up to leaders Team Daniels (235). Despite Team Richards winning the final in Esquimalt against Team Daniels, the Daniels rink was still able to secure the most points overall, with 315.625 points amassed over three events.
The Delta Thistle foursome, with Sarah Daniels, Sarah Loken, Hannah Lindner and Jordan Henson, took 120 points at the Anita Cochrane, 115 points in at the Rick Cotter Memorial and 80.625 points for the second place finish in Esquimalt.
Team Richards, from Comox Valley, features Gracelyn Richards, Keelie Duncan, Bryn Woloshyn, Kate Eisner and Cailyn Collins. They played five events with the most points coming from the Anita Cochrane (second place, 90 points), the Kamloops Junior Cash (second place 75 points) and the Optimists' Esquimalt spiel (first place, 107.5 points).
It means Team Daniels have now won the berth to travel to Victoria for the 2020 BC Junior Curling Championships. The provincials take place from Dec. 28, 2019, to Jan. 2, 2020.
Team Richards, meanwhile, will look to earn qualification through regional playdowns.
In the junior men's race, none of the top three teams were in action. Team Sato (360) easily retained the top spot, with more than 125 points ahead of their closest rival, Team Colwell. Team Sato, from Royal City Curling Club, features Hayato Sato, third Matthew McCrady, second Joshua Miki and lead Jacob Umbach. The team have secured the junior men's berth to the BC Championships. Team Colwell, from Vernon and Kamloops, took second place. The team features Erik Colwell, third Mitchell Kopytko, second Ben Morin and lead Logan Miron.
Team Carpenter, from Tunnel Town/Richmond/Nanaimo curling clubs won the junior men's event at Esquimalt over the weekend and finished in fourth place with 155.375 points. The team features Brayden Carpenter, Connor Deane, Mack Ellis and Troy Cowan.
Many of the tour teams will be in action again during regional playdowns. The Island playdowns will take place at Kerry Park Curling Club from Nov. 29-Dec. 1, the Lower Mainland playdowns will take place at Chilliwack Curling Club from Nov. 29 to Dec. 1. The Thompson Okanagan playdowns will take place at Oliver Curling Club from Nov. 29 to Dec. 1.  No playdowns will take place in the North or Kootenays. All regional playdown results and BC championship results will be available at http://playdowns.curlbc.ca/.
The final BC Women's Tour Results will be posted once World Curling Tour standings are updated.
For news, team information and standings, visit https://www.bccurlingtours.com/.
Curl BC would like to thank all the clubs that supported the junior tour with events, including Royal City Curling Club, Golden Ears Winter Club, Vernon Curling Club, Kamloops Curling Club and Esquimalt Curling Club.
Subscribe to our newsletter
Receive the latest news updates, tournaments, programs, services and discounts.