Business of Curling calendar
May 17, 2021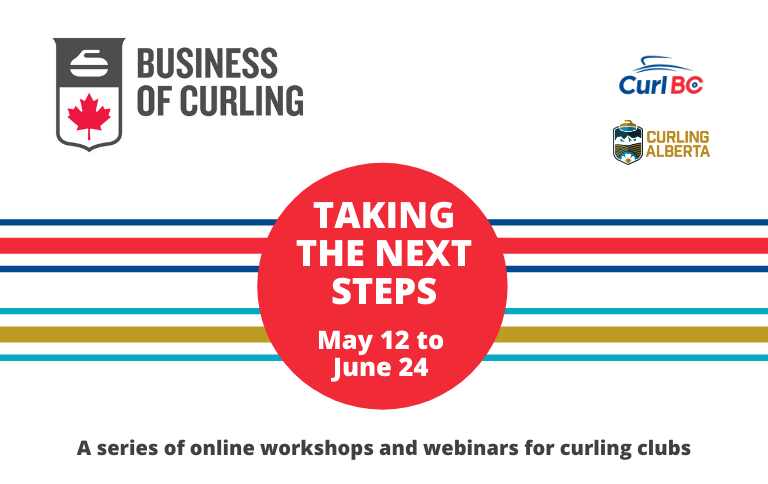 Curl BC would like to thank all the curling club staff and volunteers who have registered for Business of Curling so far.
You're already one step closer to growing your club!
If you have not registered – there is still time to do so at https://bc.curling.io/en/products/4608-business-of-curling-webinar-series.
Visit https://www.curlbc.ca/programs/business-of-curling for more information on the Business of Curling program and how it can help your club.
Updated schedule with new Ammonia Safety webinar (*all times Pacific):
Wednesday, May 12th – BC only
*2:30pm-3:30pm – Social Media Basics
Rebecca Connop Price, Communications and Marketing Manager at Curl BC, will offer curling clubs guidance on how to make sure their social media strategy helps them attract new customers, engage with existing members and showcase their club in the community.
Saturday, May 15th – BC only
*11:00am – 12:00pm – Simplify your Online Booking or Online Reservations
Patrick Prade from Delta Thistle Curling Club will show you a tool called Acuity Scheduling which, once set up, can simplify and automate your bookings and help you save time and get new customers. The webinar will be in a meeting format so there will be the opportunity to ask questions.
Sunday, May 16th
*6:00pm – 7:00pm – Membership Recruitment
Join Daniel Bubola from Calgary Curling Club, Mike Libbus from Okotoks Curling Club, and Patrick Prade from Delta Thistle Curling Club as they share their membership recruitment strategies. After hearing their stories we will give participants an opportunity to ask the panelists questions. There will also be discussion and networking in break-out rooms.
Sunday, May 16th
*7:00pm – 8:00pm – Social Media Marketing
Alex Zabel from Sway Marketing will be presenting on Social Media Marketing. She will talk about the various platforms curling clubs can use and will be discussing how to create a strategy for effective use.
Thursday, May 27th
*6:00pm – 7:00pm – Grant Writing Boot Camp
Looking to enhance your grant writing skills? Join Curl BC and Curling Alberta to learn strategies to ensure your club has the tools to be successful with your grant applications. The presenter of this recorded session is Robyn Witty from the Sport Law Group.
Thursday, May 27th
*7:00pm – 8:00pm – Capital Project Planning
Parksville Curling Club's Ross Renwick and Chilliwack Curling Club's Bruce Renwick will discuss the ways their clubs successfully raised money for big capital projects. The webinar will help you learn to plan, fund and involve the community in your project.
Tuesday, June 1st
*10:00 – 11:00am – Ammonia Safety
Technical Safety BC's Kaylyn Kretschmer will lead an Ammonia Risk Prevention Presentation. Kretschmer leads the Market Insights & Engagement team at Technical Safety BC and is passionate about working with industry stakeholders, such as curling club operators, to uncover challenges and reduce underlying barriers to safety.
Thursday, June 10th
*6:00 – 7:00pm – Risk Management
Risk management has always been an important part of running an operation, but the Covid-19 pandemic has made that even more apparent. In this session Amy Nixon, who is a board member with Curling Canada, and Brian Cowan, who is an expert in the area, will go through the ways that your clubs can plan for the future and take steps to mitigate against the risks that you face. This session will be in meeting style with the chance to ask questions.
Thursday, June 10th
*7:00pm – 8:00pm – Board Recruitment and Succession Planning
Curl BC and Curling Alberta have partnered with Vantage Point to bring you a session on recruiting for your board and planning for succession. Vantage Point's Sylvia Ceacero brings a wealth of experience helping non-profit organizations to become more effective, efficient and accountable.
Thursday, June 24th
*6:00-7:00pm – Diversity and Inclusion
Brittany Tran will lead this informative session. Tran is a competitive curler and has been curling for 22 years. Over the past year Tran has joined the Curling Canada Diversity and Inclusion Panel and is the Chair of the Curling Alberta Diversity and Inclusion Task Force where she aims to help make an impact and bring positive change to make the sport more accessible and inclusive.
Subscribe to our newsletter
Receive the latest news updates, tournaments, programs, services and discounts.