BOC day three presents a bright future for curling
June 12, 2023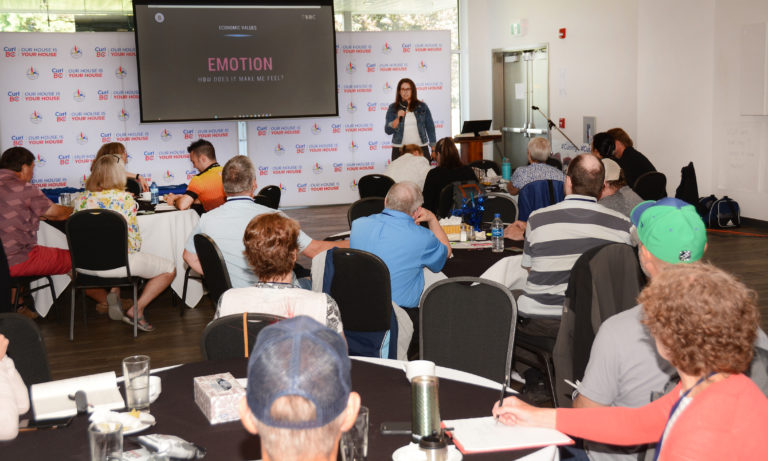 Refreshed after a good night's sleep, delegates at Curl BC's 2023 Business of Curling were wowed by the programming at the symposium's third day.
First up was Kerrie de Gooijer, who spoke on Funding the Future of Curling. An agronomy operations manager from Saskatchewan, de Gooijer led the Melfort Curling Club to a successful fundraising campaign which topped $800,000. In an impassioned presentation, she recounted the steps her local rink took to rally the local community to invest in both the club's future, and the future of curling.
Kimberly Dennis, a coach developer, two-time BC Club champion, and Curl BC's Member Services Manager spoke next, with a thought-provoking presentation entitled Price is What You Pay, Value is What You Get. As she explained, the idea of discounts and price cuts can be self-defeating for curling clubs. Elements that would attract new curlers, like service, a welcoming atmosphere, and countless other incidentals are often sacrificed in the name of providing a low price, and this in turn reduces desire. In the end, Dennis says, a quality experience will overwhelmingly trump a low price.
After lunch, Kathy Hare took to the stage with Financial Planning for the Future of Curling. An associate at Sport Law, Hare stressed that a successful future for curling absolutely requires the adequate finances required to maintain infrastructure and services. To achieve this, she outlined budgeting for re-investment, and creating a sustainable curling industry which will continue long into the future.
Rounding the weekend out was University of Waterloo professor Heather Mair with a forward-looking workshop entitled Envisioning the Future of Curling (while she couldn't join the symposium in person, she appeared remotely via a video link from Ontario). In picturing the coming years, Mair urged all present to build a curling environment that's welcoming, inclusive, diverse, accessible, and inspires Canadians to make curling part of their lives. Mair then had symposium participants break into smaller work groups to search for their own solutions.
In all, the three-day symposium provided attendees with a wealth of information, guidance, and food for thought. Perhaps just as importantly, it connected, in-person, curling professionals from across the province, making connection and friendships which can only serve to strengthen the sport of curling.
Curl BC's next Business of Curling symposium will take place in the summer of 2025.
Subscribe to our newsletter
Receive the latest news updates, tournaments, programs, services and discounts.