BC Youth Development Program & Skills Awards Program
Curl BC Youth Development Program & Skill Awards
The Curl BC Youth Development Program is an all encompassing multi-week program that correlates with our BC Skill Awards. You can use this Program alongside the Skill Awards to find the lesson plans, drills, and activities that fit into the age and abilities of the athletes. If you would like access to the program please email pcseke@curlbc.ca for a link to the document.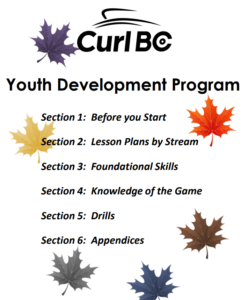 The Curl BC Youth Development Program is based on the development of the same skills as are being assessed in the Skill Awards Program. The Skill Awards Program has been designed for ages 9-20 and consists of 6 levels of assessment and badges, offered through Curl BC –
Purple

,

Red

,

Blue

,

Bronze

,

Silver

,

Gold

. The Skill Awards Program is an excellent companion program.

Here is an example of a lesson plan and how it correlates with the Skills program: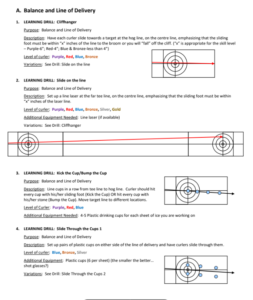 An example of how the program uses imagery and easy to understand descriptions to explain the Foundational Skills: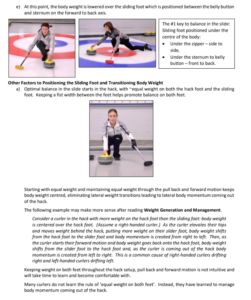 *Thank you to Kate and Darryl Horne, Curl BC Coach Developers for updating and developing this new program.
The program is open to all Curl BC Member facilities. BC Youth program coordinators and coaches are encouraged to schedule BC Skill Awards evaluation days as part of their yearly programs.
BC Skill Awards Program Digital Resources Access Request
Reporting BC Skill Award Events
Ordering Badges
For more information, to submit a Skills Awards Report Form, order badges, or to request access to the BC Skill Awards Manual and resources, please contact Paul Cseke pcseke@curlbc.ca