BC U21 Special Worlds Qualifier serves up thrills in the Tournament City
November 01, 2021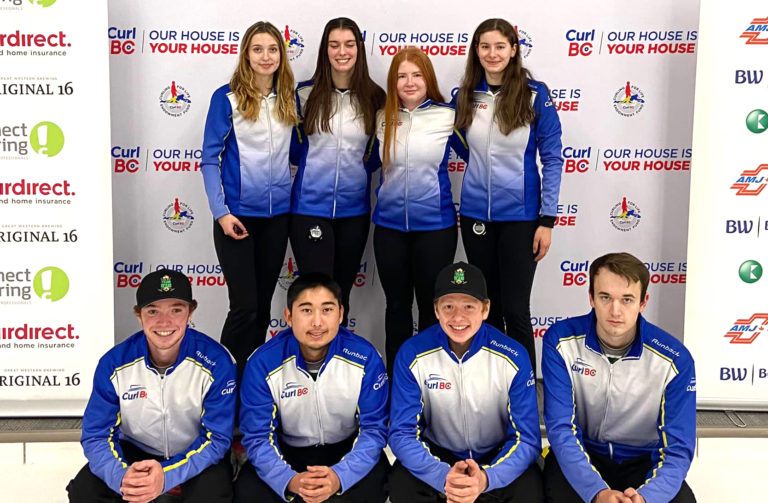 The weather may be chilly in Kamloops, but the curling action at the Kamloops Curling Club was decidedly hot this weekend as five men's teams and eight women's teams took to the ice for the BC U21 Special Worlds Qualifier.
In all, there 28 separate pool games, over 9 draws, which led to two semi-finals and two final games on Halloween day.
Team Holly Hafeli emerged with an early momentum on the women's side, winning six straight games by large margins. Their advance was halted in the final, however, by Team Emily Bowles. In the title tilt, the score see-sawed through seven ends until Team Bowles was able to take and hold lead in the eighth, capturing the qualification crown with a score of 7-5.
Team Bowles is skipped by Emily Bowles, with third Meredith Cole, second Keira McCoy, lead Chelsea Taylor, and coach Chris Summers. They represent Royal City, Delta, and Tunnel Town Curling Clubs.
On the men's side, Team Connor Deane came out of the gate strong, winning four straight games, with Team Daniel Deng hot on their heels with a 2-2 record in the preliminary round. In a low-scoring but intense final game, Team Deane got in some early insurance points which held, and delivered them a 5-4 win over team Deng.
Team Deane is made up of skip Connor Deane, third, Joshua Miki, second Mack Ellis, lead Brenin Moore, and coaches Bryan Miki and Greg Deane. The team's members represent Royal City, Tunnel Town, Nanaimo, and Langley Curling Clubs.
For a full account of men's scores, please see http://bot.curlbc.ca//web/CompRR?compid=3242. For women's scores, please see http://bot.curlbc.ca//web/CompRR?compid=3243.
Teams Bowles and Deane will now go on to represent BC in the World Juniors Qualifier in Saskatoon, SK, from November 22-27. The event is a one-time tournament created to allow for seasonal COVID-19 disruptions, and will determine the two Canadian high-performance teams who will go to the 2022 World Junior Championships.
Subscribe to our newsletter
Receive the latest news updates, tournaments, programs, services and discounts.