BC U21 Special Worlds Qualifier Brings Premier Junior Curling to Kamloops
October 26, 2021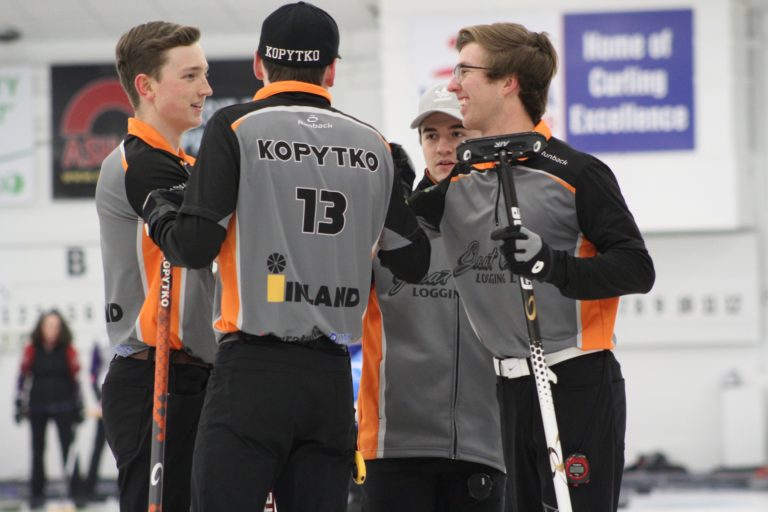 The BC U21 Special Worlds Qualifier, hosted by the Kamloops Curling Club, rolls into Thompson Country this Thursday, October 28th.
In all, five men's teams and eight women's teams will square off across 28 separate pool play games, the top 6 women's and top 3 men's teams will then advance to the championship round. All in all, it's sure to be an exciting couple of days on the ice, with some great curling from BC's next generation of high performance curlers. The men's field features past U21 BC Junior Champions Josh Miki playing 3rd on Team Deane, and there are no past U21 champions competing on the Junior Women's side of the event.
On the Men's side:
TEAM BALLARD
Skip: Preston Ballard; Third: Peter Sheridan; Second: Neil Imada; Lead: Ryder Tymich; Coach: Karen Lepine
TEAM DEANE
Skip: Connor Deane; Third: Joshua Miki; Second: Mack Ellis; Lead: Brenin Moore; Coach: Bryan Miki/Greg Deane
TEAM DENG
Skip: Daniel Deng; Third: Matthew Fenton; SNGecond: Matthew Davies; Lead: Zander Landygo; Coach: Craig Lepine
TEAM KENT
Skip: Connor Kent; Third: Toby Mills; Second: Daniel Dabiri; Lead: Michael Nunn; Coach: Darren Kent
TEAM KOPYTKO
Skip: Mitchell Kopytko; Third: Calder Fadden; Second: Coburn Fadden; Lead: Cooper Fadden; Coach: Brenda Nordin
Women's Teams:
TEAM BOWLES
Skip: Emily Bowles; Third: Meredith Cole; Second: Keira McCoy; Lead: Chelsea Taylor; Coach: Chris Summers
TEAM COLES-LYSTER
Skip: Kaelen Coles-Lyster; Third: Sarah Wong; Second: Sydney Phillips; Lead: Amanda Wong; Coach: Ken Britz
TEAM HAFELI
Skip: Holly Hafeli; Third: Jorja Kopytko; Second: Hannah O'Neil; Lead: Natalie Hafeli; Fifth: Eryn Czirfusz; Coach: Monica Makar
TEAM MALLETT
Skip: Ashley Mallett; Third: Naomi Britz; Second: Gabby Brissette; Lead: Erin Fitzgibbon; Coach: Marla Mallett
TEAM RICHARDS
Skip: Gracelyn Richards; Third: Keelie Duncan; Second: Grace McCusker; Lead: Carley Hardie; Coach: Adam Duncan
TEAM WILSON
Skip: Kayla Wilson; Third: Mahra Harris; Second: Sasha Wilson; Lead: Madi Penttila; Coach: Todd Troyer
TEAM WOIKE
Skip: Emma Woike; Third: Madison Munroe; Second: Marijke MacDonald; Lead: Madeline Buhr Coach: Brent Dellebuur
TEAM WONG
Skip: Bryelle Wong; Third: Morgan Bowles; Second: Taylor Bowles; Lead: Alexis Nguyen; Coach: Len Chong
Winners of the event will go on to represent BC in the World Juniors Qualifier in Saskatoon, SK, from November 22-27 (at their own expense, as Curling Canada does not cover flights and hotels for winning teams). The event is a one-time tournament created to allow for seasonal  COVID-19 disruptions, and will determine the two Canadian high-performance teams who will go to the 2022 World Junior Championships.
Spectators are welcome, but Proof of vaccination will be required by all athletes, coaches, parents, and spectators for entry to the Kamloops Curling Club. All guests over the age of 5 will be required to wear a mask while on the warm side of the glass, unless seated with food and/or drink. 
Subscribe to our newsletter
Receive the latest news updates, tournaments, programs, services and discounts.