BC Teams storm into Ottawa for the Everest Canadian Curling Club Championships
November 29, 2021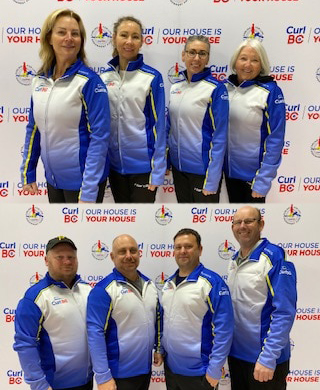 Starting today, the 2021 Everest Canadian Curling Club Championships brings the best of club curling to the Ottawa Hunt & Golf Club in Ontario.
14 men's and 14 Women's provincial and territorial teams will face off, providing plenty of action. In all, the championships will see 14 draws, 84 preliminary games, 4 double-knockout rounds, and then semi-final and final rounds.
BC's representation on the Women's side comes from the Parksville Curling Club, with Penny Shantz serving as skip, Tina Chestnut as third, Nicole Guizzo as second, and Nancy Betteridge as lead.
BC's Men's team, from the Langley Curling Centre, is skipped by Darren Frycz, with third Michael Sitter, second Don Monk, and lead Steve Claxton.
Local curling fans will be able to watch – and cheer on – the BC teams live on Curling Canada's Youtube channel at www.youtube.com/curlingcanada. BC men vs. Northwest Territories will be streamed live on Tuesday, November 30 at 4:30pm, and BC women vs. Ontario women will be streamed live on Thursday, December 2nd at 9:30am.
The Canadian Curling Club Championships run from November 29 to December 4th
Subscribe to our newsletter
Receive the latest news updates, tournaments, programs, services and discounts.