BC Seniors Rumble in the Soo
December 08, 2021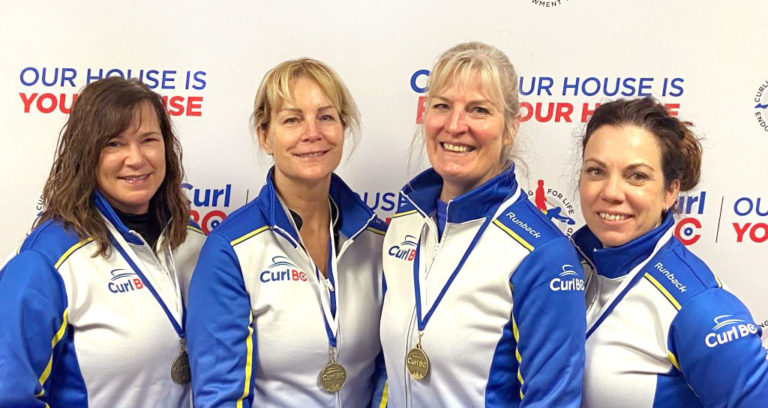 It was a busy week for BC curlers at the Everest Canadian Seniors Curling Championships, December 6-11.
In all, 14 men's teams and 14 women's teams battled it out at the Community First Curling Centre in Sault Ste. Marie, ON, and the competition couldn't be more fierce.
The BC women—AKA Team Arsenault, with skip Mary Anne Arsenault, third Penny Shantz, second Diane Gushulak, and lead Grace MacInnes—currently hold a 3-2 record, as well as the fifth-place spot in the women's "A" pool.
On December 6th, In Draw 1, Team Arsenault took on Quebec in a tight game that saw the score see-saw back and forth before a 6-5 BC victory. Then, in Draw 4, they took an early lead and kept it throughout their 8-2 defeat of Nunavut.
The next day, December 7th, Team Arsenault lost 6-5 to Manitoba in Draw 6 when Team Kim Link came on strong in the seventh and eighth ends. In Draw 8, BC defeated Northern Ontario 8-2, after taking the lead in the second and never letting up.
Today, December 8th,  saw Saskatchewan top BC 11-2, in a morning game which ended in handshakes after the 6th. Later, Team Arsenault will take on PEI at 5:30pm.
The BC men's team—made up of skip Tom Buchy, third Dave Toffoli, second Kevin Maffioli, and lead Darren Will—has seen tougher competition. Currently in fifth place in the men's "B" Pool", the team has a 2-3 record over three days of play.
In Draw 2, on December 6th, the BC men lost 6-5 to Ontario in an evenly-matched game. In draw 4, Team Buchy fell 6-3 after a 4-point seventh for PEI.
On December 7th, Alberta took an early lead in Draw 7 and never let up, defeating BC 7-1. Then Team Buchy defeated Northern Ontario 5-4 in Draw 8, in a competitive game which saw each team in the lead at various points. Yesterday, in Draw 9, BC defeated Nunavut 8-2 with a handshake at the end of the sixth.
While the BC men would go home after falling to Quebec the 18th draw, Team Arsenault fought their way to the final, where they were pitted against Team Saskatchewan. Although BC was in the lead at the third, Saskatchewan would eventually pull ahead to win 10-4.
Subscribe to our newsletter
Receive the latest news updates, tournaments, programs, services and discounts.