BC Scotties and Men's Draw 7 sees Teams Reese-Hansen and Ryan qualify for playoffs; Men's action intensifies
January 13, 2023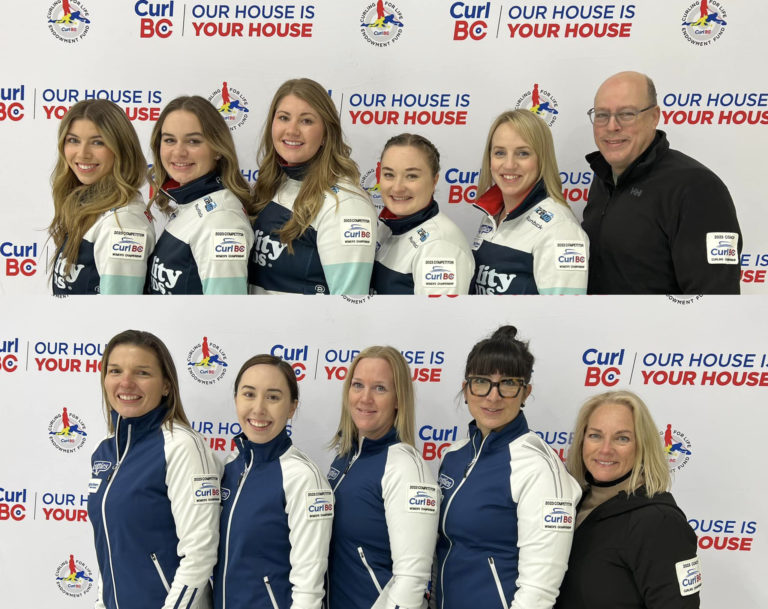 The competition heated up in Draw 7 of the 2023 BC Men's and BC Scotties Women's Curling Championships.
The final two playoff qualifiers were determined on the women's side of the event in this draw.
Team Jensen (Richmond, Royal City) was coming fresh off a win to meet with Team Reese-Hansen (Victoria, Kamloops) in the first C-Qualifier game. These teams have met previously in the season, with Team Reese-Hansen winning their last match at the King Cash Spiel 7-6. Teame Reese-Hansen did it again this time, coming out on top with a score of 7-6.
After missing out on a playoff spot in the B-Qualifier game, Team Ryan (Golden Ears) sought to redeem themselves in a game against Team Gushulak (Vernon, Royal City, Prince George, Winfield). And so they did, punching their ticket to the playoffs with 7-6 victory.
Team Reese-Hansen and Team Ryan will now face each other in the Page 3v4 game at 7:00pm tonight and must keep winning to stay in the competition.
For the men, there were two B-semis and two must-win C-Event games on the ice.
The first B-semi put Team Cotter (Vernon, Kelowna, Kamloops) against Team Robillard (Royal City, Nelson). This was the first matchup of the season between these two teams. This game went to Team Cotter by a score of 7-6
Team Robillard will meet up with Team Montgomery (Victoria) in the C-semi today at 2:00pm.
The second B-semi had Team Pierce (Royal City) hoping to bounce back from an A-Qualifier loss against Team Tanaka (Royal City, Richmond). Team Pierce showed their determination to stay in the B-Event, taking the win 7-6.
Team Tanaka drops to a C-semi against Team Geall (Salmon Arm, Penticton, Kamloops) today at 2:00pm.
Team Cotter and Team Pierce will play against each other in the B-Qualifier game today at 2:00pm.
In the first men's C-Event game of this draw, Team Fenton (Royal City, Comox) took on Team Cseke (Victoria). They played each other yesterday morning, with Team Cseke taking that win 8-2. This time it was Team Fenton who stayed alive in the competition with a score of 8-7.
Team de Jong (Victoria, Penticton, Vernon) and Team Joanisse (Golden Ears) met in the second C-Event game of the draw. They both pushed to move forwards in the C-Event but it was Team de Jong claiming victory, 7-6.
Team Fenton moves to a C-semi against Team de Jong later today at 2:00pm.
A big thank you to the amazing ice crew. The competitors are enjoying the conditions and we couldn't ask for a better provincials experience.
Catch all of the action on www.youtube.com/@CurlBCTV/streams.
This event is supported in part by grants from the Province of British Columbia, Hosting BC, Tourism BC, and viaSport BC.
Subscribe to our newsletter
Receive the latest news updates, tournaments, programs, services and discounts.