BC Provincial Club Championships, Presented by Original 16, set to hit the ice in Quesnel
September 22, 2021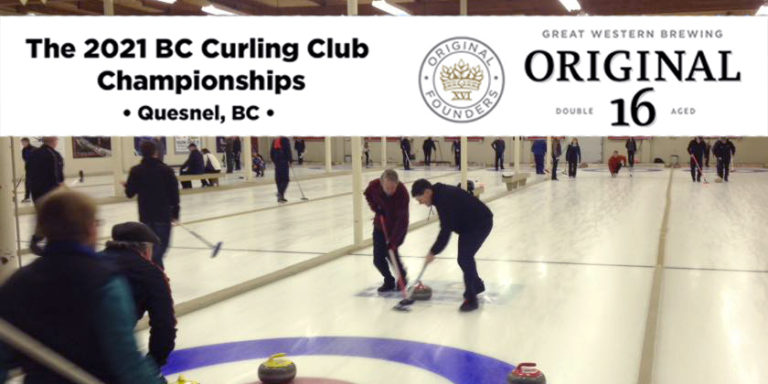 Curling is back, and not a moment too soon.
If you've been missing on-ice action, get ready for some great curling at the BC Provincial Club Championships, Presented by Original 16, in Quesnel from September 29th to October 3rd.
The event, which will be hosted by the Quesnel Curling Centre, offers an elite championship experience to recreational curlers, and will determine who qualifies for the 2021 Everest Canadian Club Championship in Ottawa (BC teams have twice won the national championships recently, with Team Sawyer in 2017 and Team Shimizu in 2018).
The Quesnel games will feature 10 club-based teams (4 women's and 6 men's). The main action begins on Thursday, September 30th, with the first draw ta 9:00 a.m. followed by opening ceremonies at 11:30 a.m.
The ten teams competing are as follows:
Team Parksville Curling Club
Skip: Penny Shantz
Third: Tina Chestnut
Second: Nicole Guizzo
Lead: Nancy Beetteridge
Team Quesnel Curling Centre – Female
Skip: Brenda Ernst
Third: Dana Johansen
Second: Penni Yamamoto
Lead: Shari Needham
Team Qualicum Curling Club
Skip: Shirley Wong
Third: Shannon Roberts
Second: Darcy Demchuk
Lead: Lena West
Team Langley Curling Centre – Female
Skip: Betty Meade
Third: Karen Lepine
Second: Claire Morrison
Lead: Susan Loken
Team Delta Thistle Curing Club
Skip: Chris Gomes
Third: Patrick Prade
Second: Martin Perry
Lead: Brian Cole
Team Abbotsford Curling Club
Skip: Lyle Sieg
Third: Kent Bird
Second: Brett Kury
Lead: Doug Obyrne
Team Langley Curling Centre – Male
Skip: Darren Frycz
Third: Mike Sitter
Second: Don Monk
Lead: Steve Claxton
Team Quesnel Curling Centre – Male
Skip: Shayne Yamamoto
Third: Jerry Melnyk
Second: Will Quarry
Lead: Mike Fisher
Team Vancouver Curling Club
Skip: Andrew Forrest
Third: Andrew Gray
Second: Dave Marchant
Lead: Kris Davis
Alternate: Craig Coyne
Team Marpole Curling Club
Skip: Cody Tanaka
Third: Armando Guanzon
Second: Mike Eastwood
Lead: Ian Baart
While everyone's happy to get back on the ice, COVID-19 is still a reality, and the Quesnel Curling Centre will observe and enforce all provincial health regulations required for indoor activities. Proof of identity and proof of minimum one vaccination will be required to enter the centre.
Subscribe to our newsletter
Receive the latest news updates, tournaments, programs, services and discounts.